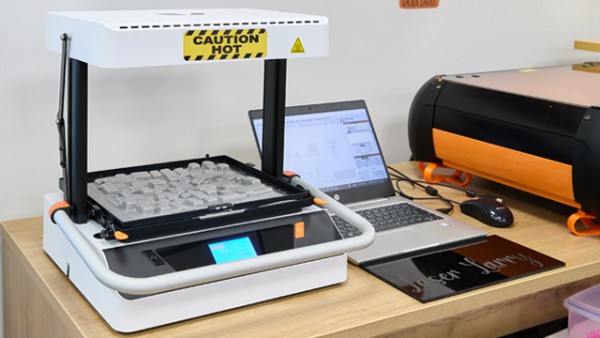 What is it?
Formatron is a Vaquform, the world's first desktop vacuum former. A vacuum former works by heating a sheet of plastic and then pulling it down over an object that sits on a vacuum plate. The vacuum plate sucks away the air from the plastic sheet, helping it to stay formed to the object as it cools. You end up with a copy of the object you formed! You can make many things like sound diffusion panels and chocolate moulds!
You can use almost anything as a forming tool with Formatron. You can watch this YouTube video which provides basic instructions on how to use a Vaquform.
We have a variety of materials available for Formatron here at Auaha, including HIPS, PETG, and EVA Foam.
HIPS (High Impact Polystyrene) is a material blend of polystyrene plastic and polybutadiene rubber.

PETG or PET-G (Polyethylene Terephthalate Glycol) is a thermoplastic polyester that delivers significant chemical resistance, durability, and formability.

EVA (Ethylene-Vinyl Acetate) is one of the materials popularly known as expanded rubber or foam rubber. EVA foam is used as padding in equipment for various sports such as ski boots and cricket gear.
A sheet of HIPS, PETG, or EVA Foam costs $2.50 each.
There is no need to book! Simply come into Auaha Central Library and ask one of our friendly staff about it. You can also email us to get more information.