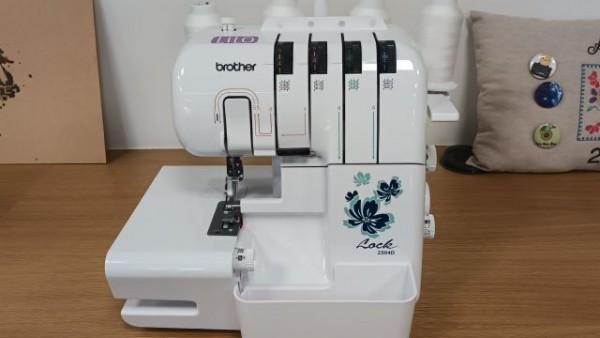 What is it?
Lilo is a Brother 2504D Overlocker located at Auaha Central Library. It is the ideal solution for finishing edges and hems professionally and affordably.
An overlocker (also known as a serger) is a special-purpose machine that produces professional finished seams, like those found on ready-made garments. It uses three or four threads to encase the raw edge of the fabric with an overcast stitch, while trimming away the seam allowance. Instead of a bobbin and a single needle, the overlocker has a cutting blade, "loopers" and two needles. Additionally, because overlocking stitches often have built-in stretch, they are the perfect tool for seaming knit fabrics.
Thread the machine using the instructional diagrams that are stickered on the overlocker.

Insert the fabric beneath the presser foot, and press the lever to lower the foot onto the fabric. Line up your fabric with your desired seam allowance marking on the bed of the machine.

Gently press down on the pedal. This will start the motor running and move the needles up and down at the same time as the machine feeds the fabric through the area beneath the needle.

Depending on the material you are using, you made need to adjust the tension of the threads accordingly.
There is no cost to use our overlocker, but you will need to bring the material/items you wish to sew. We have black, white and grey overlocking thread.
No need to book! Just come down to Auaha Central Library and ask our friendly librarians for the overlocker machine. You can also email us to get more information.