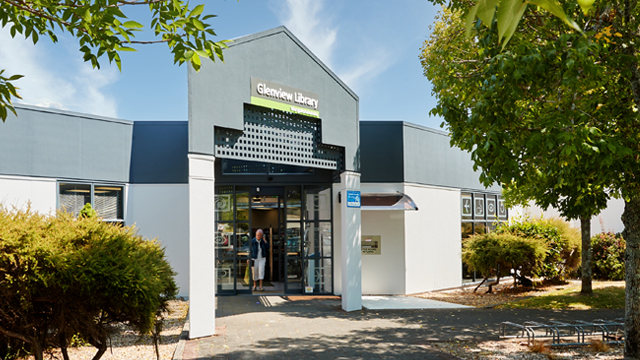 Show events at Glenview Library
Hours
Monday

9.30am - 5.30pm

Tuesday

9.30am - 5.30pm

Wednesday

9.30am - 5.30pm

Thursday

9.30am - 5.30pm

Friday

9.30am - 5.30pm

Saturday

9.30am - 1pm

Sunday

Closed
Glenview Library Mangakootukutuku services the Southwestern suburbs of the Hamilton. Conveniently attached to the Glenview shopping centre. Access via MacDonald Road.
Mangakootukutuku refers to the name of the gully that runs under State Highway 3 near Collins Road. The Kootukutuku (Fuchsia Excorticata) grew in abundance along its gully system. Its berries were known as koonini and were traditionally gathered as a food source by ancient Maaori.
Show events at Glenview Library
Hours
Monday

9.30am - 5.30pm

Tuesday

9.30am - 5.30pm

Wednesday

9.30am - 5.30pm

Thursday

9.30am - 5.30pm

Friday

9.30am - 5.30pm

Saturday

9.30am - 1pm

Sunday

Closed
Services available
Free car parking.

Buses stop at Ohaupo and MacDonald Roads.

Free internet and free Wi-Fi.

Photocopying and black & white printing.

Self-check issues and returns chute.

Community notice board.

Look up BUSIT Services.
Contact
07 838 6821
MacDonald Road, Deanwell
Ringa Tohu/Community Library Lead: Dianne Galletly
Find us here