Hamilton at Play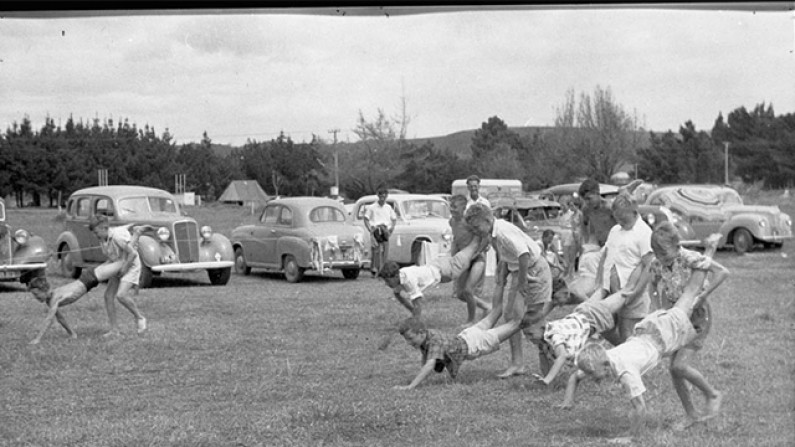 What did people do for entertainment before the days of the Internet and reality TV shows? Explore a variety of leisure activities from days gone by!
Cover Image: An Ellis & Burnand office picnic, c.1952 HCL_07435
Recreation
Sydney Square; A Place for the People
Sydney Square was the original name for what is now known as Steele Park in Hamilton East.
It was probably named to commemorate the recruiting of some of the Waikato Militia from Sydney. Originally used as a public square in 1868, it became a recreation ground in 1878.
The area became popular for events, with picnics, football and cricket matches held almost weekly. However, it was not an ideal spot, as it was unfenced, uneven and prone to weeds and wandering livestock. There was often controversy in the early 1890s and conflict with 'The Claudelands Syndicate', who were campaigning for better recreational land elsewhere.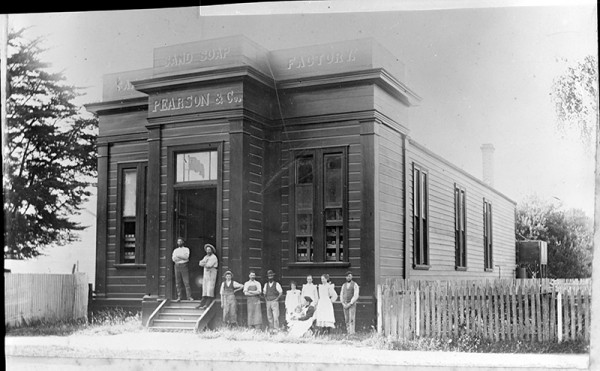 Oddfellows Hall, later used as Pearson's Carbolic and Soap Factory it is now Cook St Social. HCL_02768
The Oddfellow's Hall was opposite the square – this was very convenient for holding indoor bazaars, fetes and providing refreshments when sports events were being held, in addition to the pavilion. The Hamilton Town Hall was often used in conjunction with events as well.
St Patrick's Day was a public holiday and always a cause for celebration in the Square. A Catholic sports day was held with entertainment provided for young and old.
Empire Day, celebrated on the late Queen Victoria's birthday (24 May) was also marked at Sydney Square from 1906, 5 years after her death. Some of the events included foot & relay races, jumping by fours and wrestling on horseback.
"The centre of attraction was undoubtedly the ladies' Pea Rifle Competition, which again showed that there were a number of crack lady shots in the Waikato" (Waikato Times: 25 May 1906)
Brass band and military musical events were often held. One such event was the Promenade Concert in aid of the Hamilton Cadets and Town Band in 1904. The grounds were illuminated beautifully by Chinese lanterns of all sizes and shapes. A full programme of songs and instrumentals was performed.
In addition to the regular football, rugby and cricket matches, Sydney Square hosted carnivals, fancy dress football matches, bicycle races, equestrian events, Easter celebrations and outdoor performances.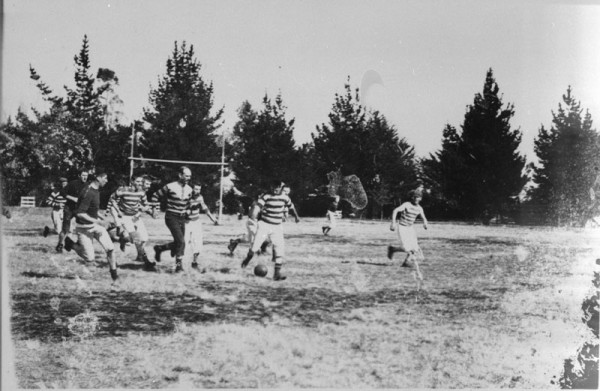 City vs Suburbs football match at Sydney Square c.1904. HCL_05094
Each year Christmas carols were sung on December 25 and an athletic sports day held on Boxing Day. This would attract hundred of visitors from various parts of the Waikato.
As well as sports there was much merriment such as maypole dancing and in 1886 a grand Christmas Carnival and International Fete was held over three days.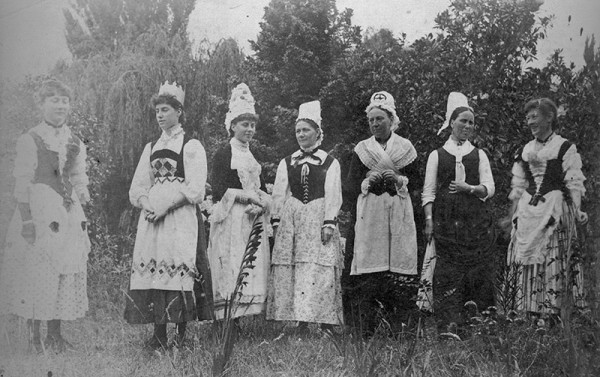 Ladies in international costume as part of the St Peter's Church Christmas Carnival, Sydney Square, December 1886. HCL_00717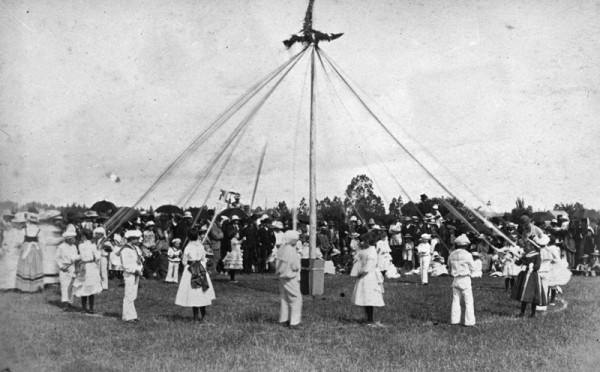 Maypole dancing at Sydney Square, c. 1886. HCL_00711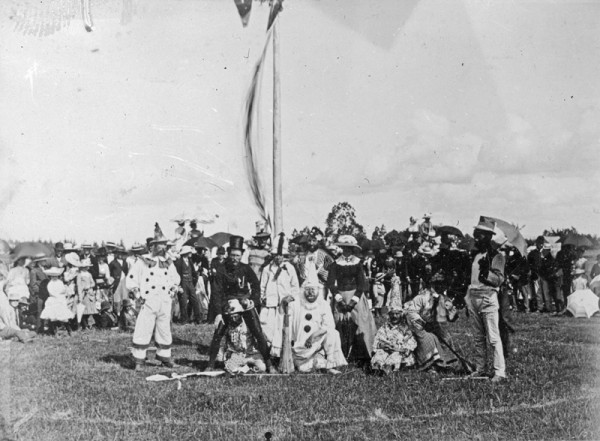 Comic cricket match as part of the St Peter's Church Christmas Carnival, Sydney Square, December 1886. HCL_00716
Pleasant Sundays
In 1840, New Zealand adopted the 40 hour week (one of the first countries in the world to do so). However, many settlers still had to work long hours, often in excess of fifty hours per week over six days, and shops were expected to open even longer.
It was no wonder then that people really looked forward to their Sunday off at the end of the week. It was a time for family gatherings, tea parties, picnics, and some sports. It was also a time for church, Sunday being a day of worship. Several churches were very strict about what they allowed on a Sunday – some forbade recreation and certainly no work was allowed – including hanging out the washing!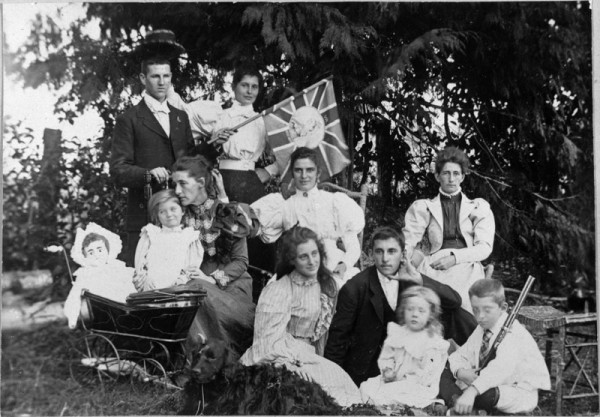 Gathering of Graham and Brewis families to celebrate Queen Victoria's 60th Jubilee, c.1897 HCL_00653
In the pioneer days, picnics and walks were acceptable activities to enjoy on Sundays. People could enjoy the fresh air and socialise at the same time. Many organisations would arrange yearly picnics and provide transport. As more people could afford transport they travelled further enjoying the beaches and countryside around them. Picnics were the forerunners of the great New Zealand tradition of tramping.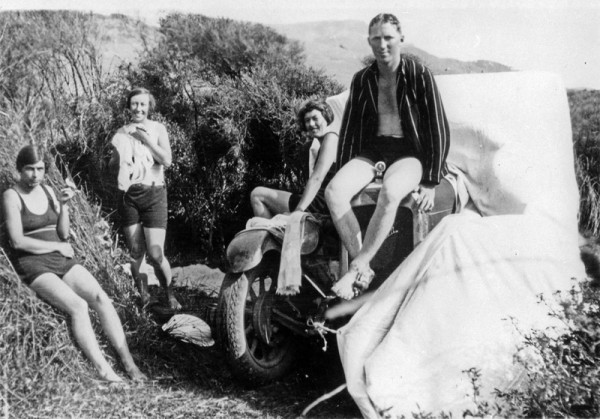 Douglas Family on holiday at Ruakaka, date unknown HCL_10246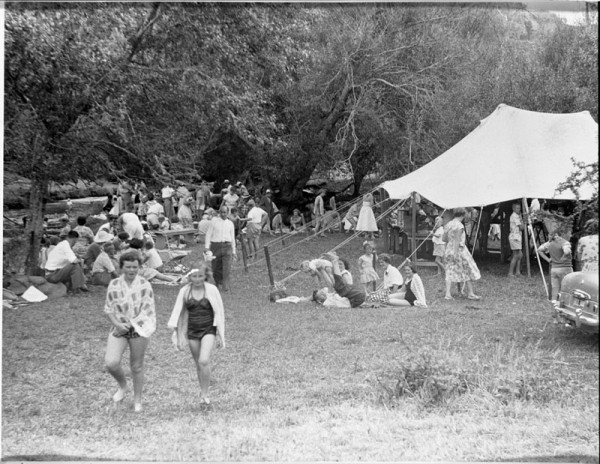 Ellis & Burnard office picnic, c.1952 HCL_07429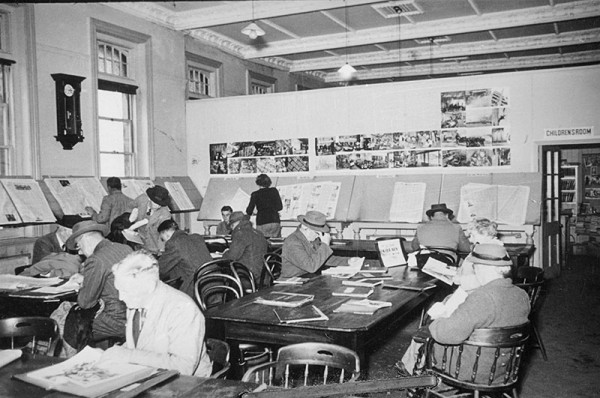 Carnegie Library Newspaper Reading Room, c.1955 HCL_M00638.7
We are lucky in Hamilton to have always had places to play; fields, squares, gardens, parks, public amenities, playgrounds, river and lakes. The local Council and the Beautification Society provided the means for this. The Beautification Society was formed in 1912 by bookseller William Paul – it was a voluntary group with the aim of improving the environment both for looks and recreational purposes. The parks provided places for both Sunday relaxation and sports events.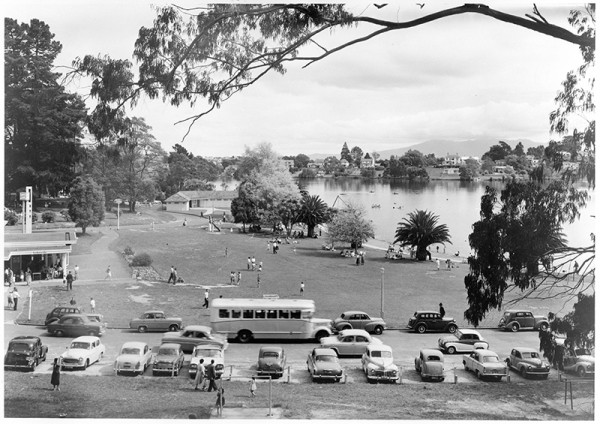 Hamilton Lake Domain, 1959 HCL_04497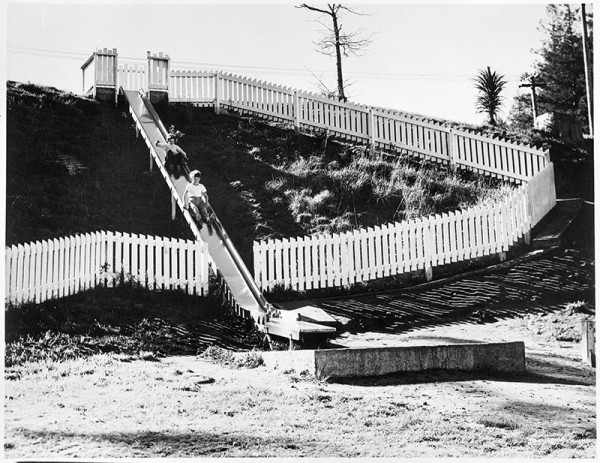 Slide at Hamilton Lake Domain, c.1960. The slide was installed in 1955 but was removed in 2002 due to wear and tear. HCL_04702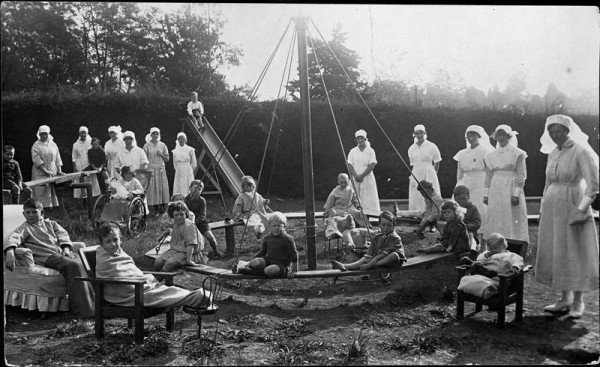 The Sunshine Playground for children at Waikato Hospital, c. 1920 HCL_01696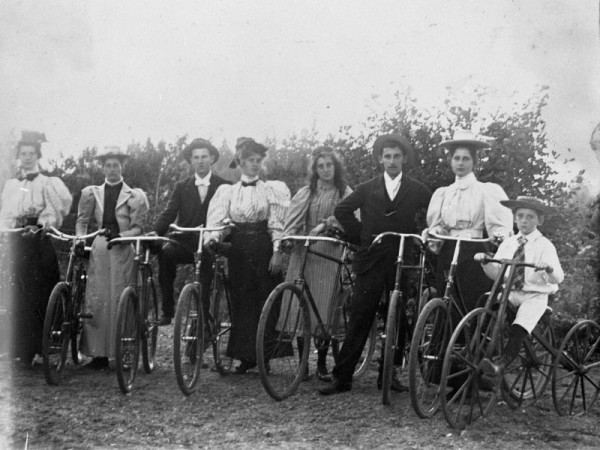 The Graham Family and their cycles, 1898 HCL_10973
Hamilton Motor Camp on the Waikato Riverbank, date unknown HCL_10151
Cultural Pursuits
Early Hamilton residents felt it was their duty to create a cultured life for themselves and the theatre formed a key part of that. Even the worst performances were seen to uplift the spirit so that everyday life could be momentarily forgotten. Occasionally touring performers arrived and were popular, despite the acts not being very experienced or practiced. The Hamilton Amateur Dramatic Club was first proposed in 1875 but didn't officially get underway until 1890, with Captain Reed unanimously elected to the chair. It was one of the few examples of European art and culture in the township at that time. During their seven year existence the Hamilton Comedy Club managed to attain 'reasonable standards.' They performed to full houses, often turning patrons away at the door.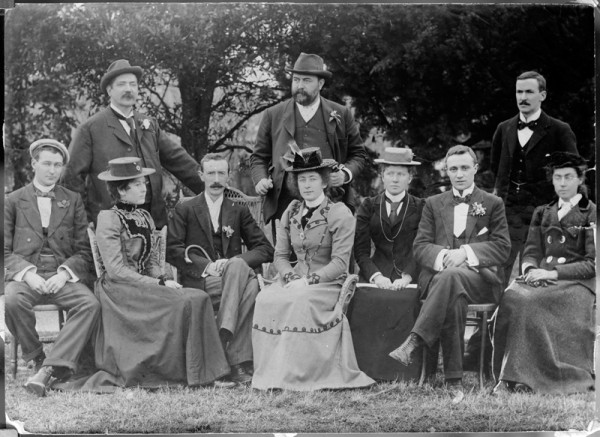 Hamilton Comedy Club, c. 1900 HCL_02134
The People's Theatre arose in the 1930s and they concerned themselves with international and political issues; things which most Hamiltonians didn't have much thought or concern for. Their first play caused a commotion as it was directed against fascism and Nazism.
The Theatre Royal (on Victoria St, later known as the Embassy) had the capacity to seat 1200 and from opening in 1915 until the 1960s hosted nearly every local and major touring stage production.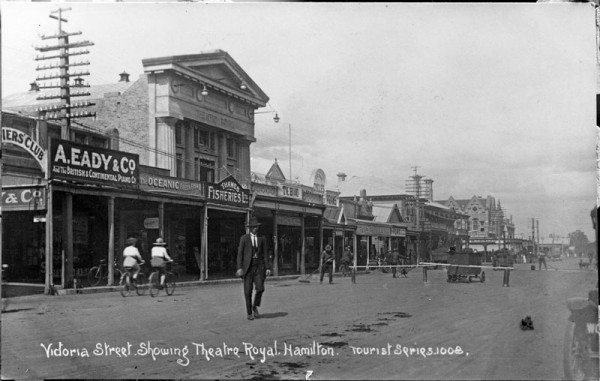 The Theatre Royal, Victoria Street, c.1919 HCL_00131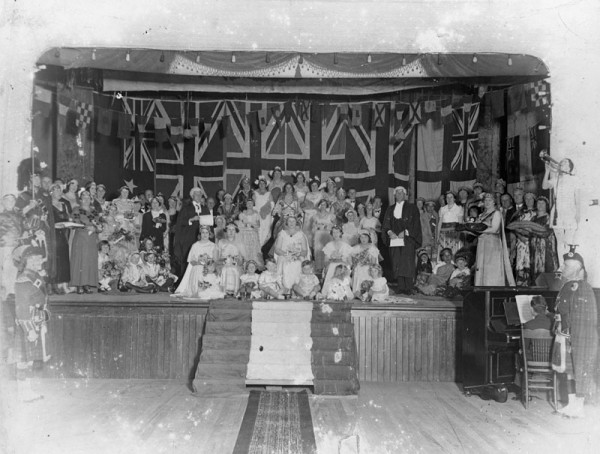 The Queen Carnival at Frankton Town Hall, c. 1930 HCL_11406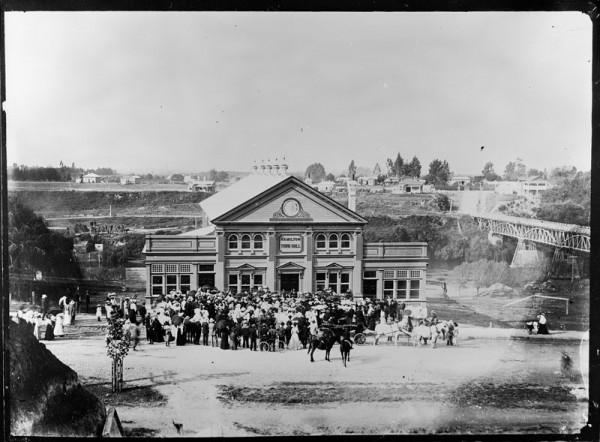 Opening of Hamilton Town Hall, Victoria Street 23 March 1905. It was opened by Premier Richard John Seddon. HCL_00153
The first movie to be made in Hamilton was in 1905, by Major Perry of The Salvation Army. In association with a tour by The Salvation Army, people were filmed in Victoria Street and the film footage produced, edited and then shown at the Town Hall a few days later.
The first pictures shown were silent movies sometimes accompanied by orchestras or musicians. With the introduction of sound to movies in the late 1920s, creating 'talkies', musicians were no longer needed. As the population grew, there was increased demand for cinemas and theatres.
The King's Chambers opened in 1911 and operated as the King's Theatre until 1922.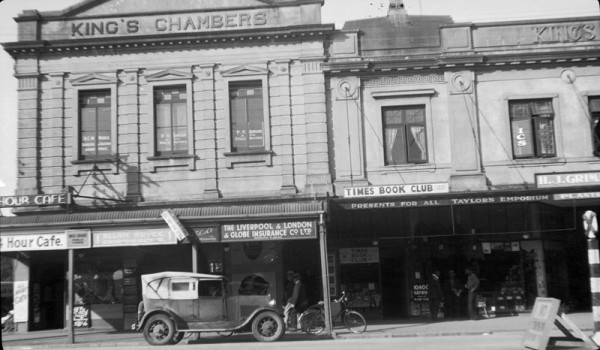 The King's Chambers, Victoria Street c. 1939. HCL_01108
Frankton had a theatre for many years. In 1911 Princess Pictures began showing pictures at the Frankton Town Hall. Frankton's Own Theatre was opened in 1922. In 1930, after a brief period of closure to installation new equipment, it was reopened as the Roxy. The theatre underwent a further name change in 1950, becoming the Vogue.
The Empire Picture Company began showing films at the Town Hall in 1910. The building went through several name changes, known as the Lyric, Strand and later the Civic Theatre.
The New Strand theatre opened in the Livingstone Chambers building in 1922. In 1934, this became the Regent Theatre.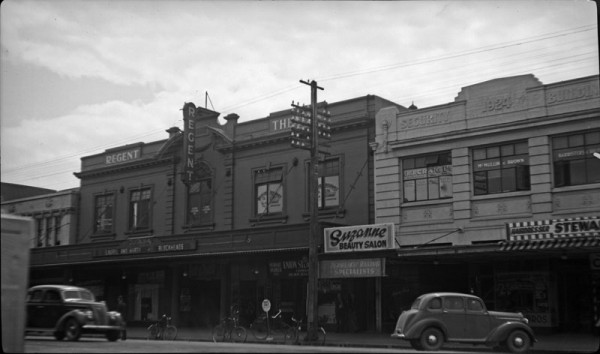 The Regent Theatre, Victoria Street c. 1939. HCL_01099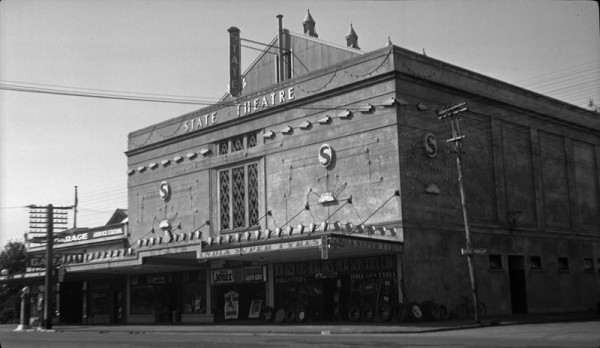 The State Theatre, corner of Victoria and London Streets. c. 1939. HCL_01126
The State Theatre was opened in 1932 and continued to operate until 1964. After a brief period of remodelling, it reopened as the Carlton Theatre.
Hamilton Talks was said to be the first sound-film comedy in New Zealand. Filmed in Hamilton, the 20 minute film featured Hamilton landmarks.
Music has always been a part of the towns' social fabric even if instruments and instrumentalists were in short supply. As early as 1864 a large hut had been built containing a stage, room for an orchestra and 200 seats which were always filled. Hamilton's music culture in the 1890s was very British and piano music was especially popular. Local concerts and music filled evenings in the home were the hallmark of the day. Concerts were often hosted in the churches or town halls and touring musicians were always popular with the crowds.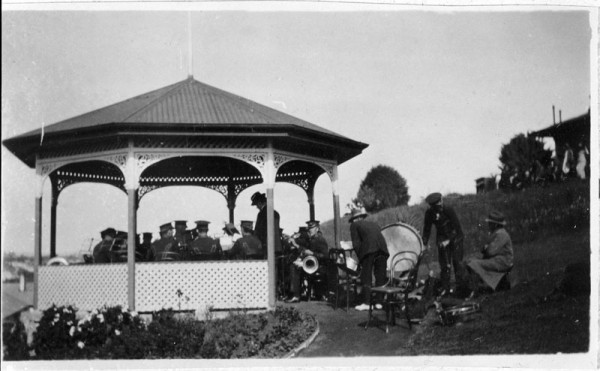 Hamilton Municipal Band performing in the band rotunda, originally built for Te Waikato Sanitorium, later relocated to Waikato Hospital, c. 1923 HCL_01684
During the Great War concerts increased and became not just social gatherings but patriotic events to raise money for the war effort. Musicians were able to gain reasonable employment of £7 a week in the 1920s when silent films arrived. Dance bands playing popular music thrived and were in great demand especially at the Regent Theatre and Frankton Town Hall where many dances and balls were hosted.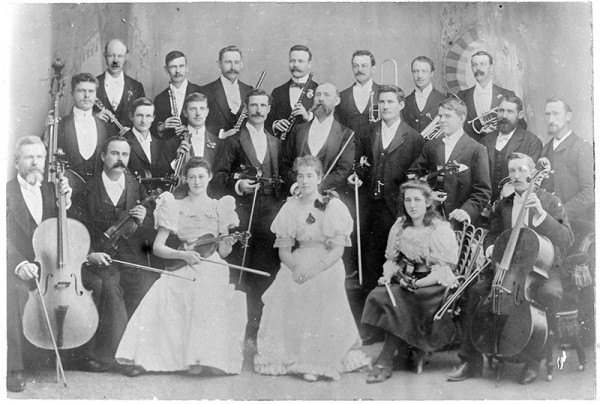 Hamilton Orchestral Society, date unknown HCL_04404
Radio helped spread the interest of mainstream international music. Installing a 'wireless' set could be difficult, the dealer normally gave the buyer a demonstration in the home. One dealer in Hamilton built his own six-valve radio set and named the popular line, 'Sovereign'.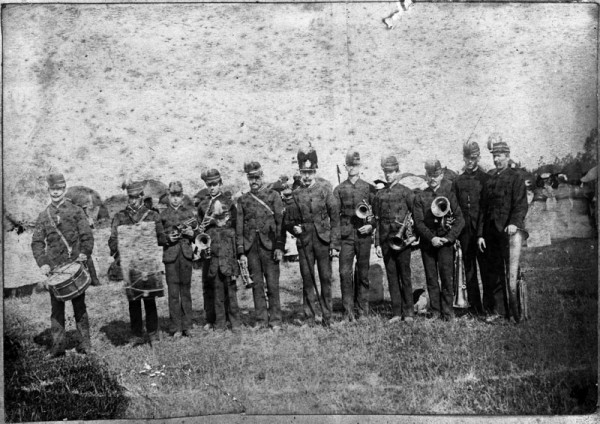 Hamilton Municipal Band, 1878 HCL_00130
Parades and Events
Hamiltonians have enjoyed watching and taking part in parades for many years. Important occasions such as celebrating the end of the two World Wars, or visits by members of the Royal Family have often been recognised by parades. Military marches, sporting events, Labour Day, Easter and ANZAC Day have also been observed with a parade. Centennial celebrations in 1964 saw a variety of activities to commemorate the birthday of the city. These celebrations included a parade with floats, speeches and citizens in fancy dress.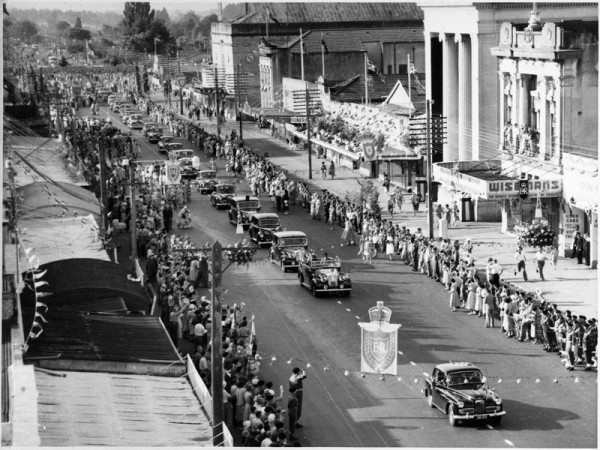 Queen Elizabeth II visiting Hamilton, 1953 HCL_02495
The Labour Day holiday was legislated by Parliament in 1899. In 1913 a large parade was held on Labour Day in Hamilton initiated by the Hamilton United Friendly Societies Council for the benefit of Waikato Hospital. The occasion was said to be for the guidance of public opinion and saw a large number of trades represented.
Trade procession along Victoria Street for Labour Day, 1913 HCL_00124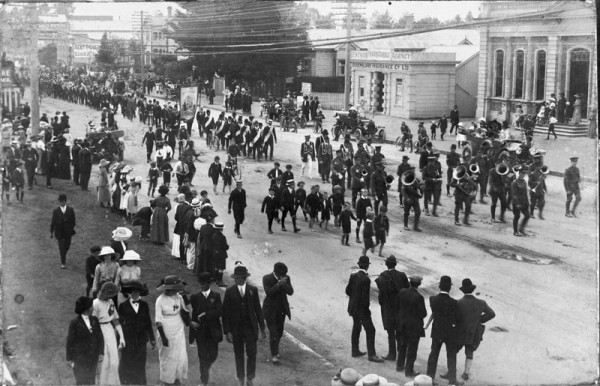 Trade procession along Victoria Street for Labour Day, 1913 HCL_00963
Mooloo parades became popular during the 1950s when the Waikato Rugby team beat North Auckland to win the Ranfurly Shield in 1951. Hamiltonians became enthusiastic supporters of their local team. Being a 'cow-town' the emblem of a cow, 'Mooloo' became the mascot and quickly appeared on flags, posters, advertising leaflets and in window displays.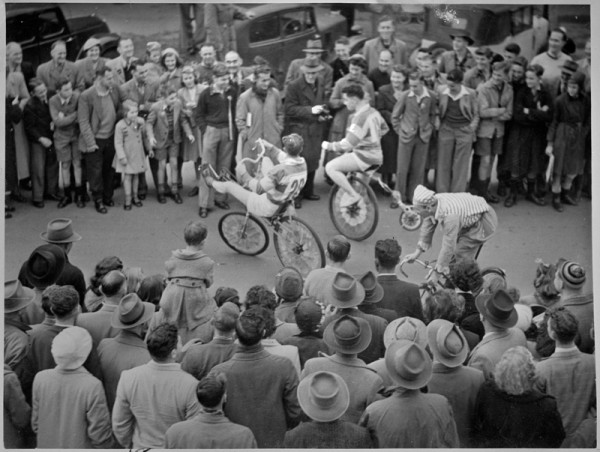 Mooloo Parade, c.1950s HCL_02107
Supporters started bringing cow bells to matches and carnival type gatherings appeared. It wasn't long before processions walked along Victoria Street with floats prepared by local businesses and organisations. The Chamber of Commerce organised the parades, realising the potential retail benefits. These processions became known as 'Mooloo Parades'. The Mooloo parade prior to the 1956 encounter with the Springboks was said to be the biggest ever. The supporters were rewarded with the local team winning 14-10.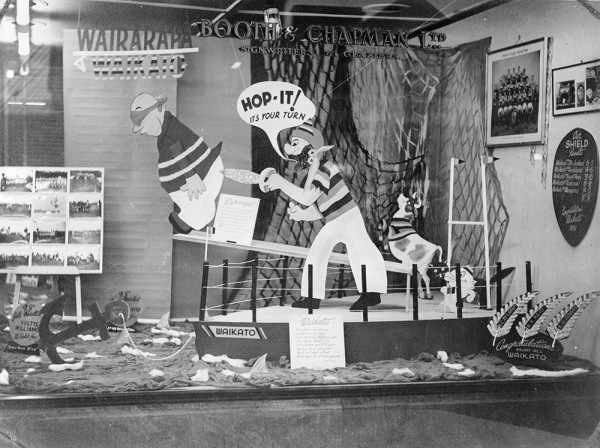 Mooloo Window Display at Booth & Chapman, Victoria Street 1951 HCL_03672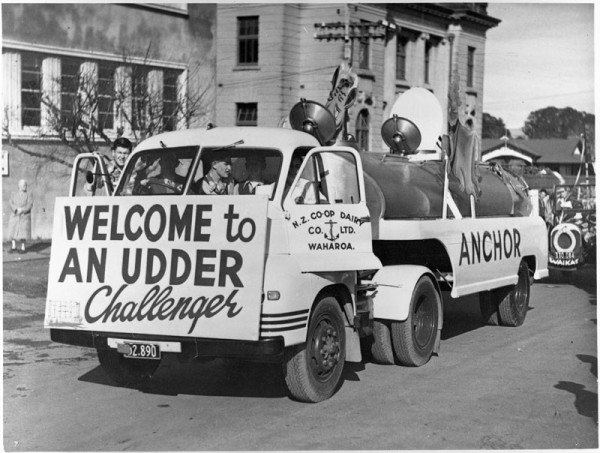 Mooloo Parade Float from New Zealand Dairy Co-Operative Ltd, c.1950s HCL_03669
Settlers used events for entertainment and fundraising. A Grand Bazaar took place in the Public and Volunteer Hall in 1882, raising £230 to aid the building of the Catholic Church. Special events also helped bring the town together; on the eve of Christmas 1883 200 Maaori were invited "to spend their holidays in a European settlement and in a truly European manner". They all enjoyed a Christmas dinner served with meats, pastry and fruit at the LeQuesne's Hall. In the evening a haka was performed with the price of admission one shilling.
The Agricultural & Pastoral (A& P) Show and the Waikato Winter Show merged in 1965, but each has their own separate history. The first Waikato A&P Show was held in Cambridge in 1877 and took place over two days. The final day of the show was declared a public holiday. Cambridge and Hamilton then took turns hosting the show until Claudelands Showgrounds became the official venue in 1892.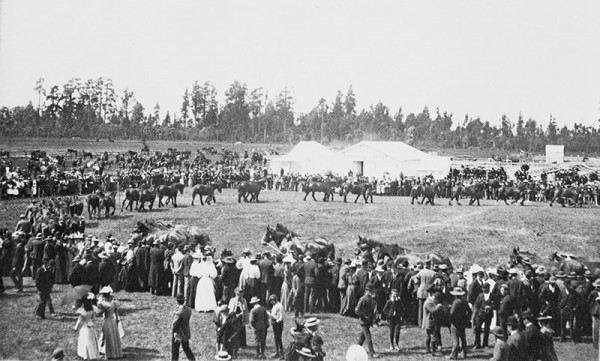 A & P Show, Claudelands, date unknown HCL_10137
The first Waikato Winter Show was held in 1907, for many years in the 'Horse Bazaar' building on Ward Street. Early on it was decided the show needed to be more than competition and displays so entertainment became a priority. Artists and performers were sought from afar; acts included motorcycles stunts, a glass blower, the smallest horse in the world and acrobats.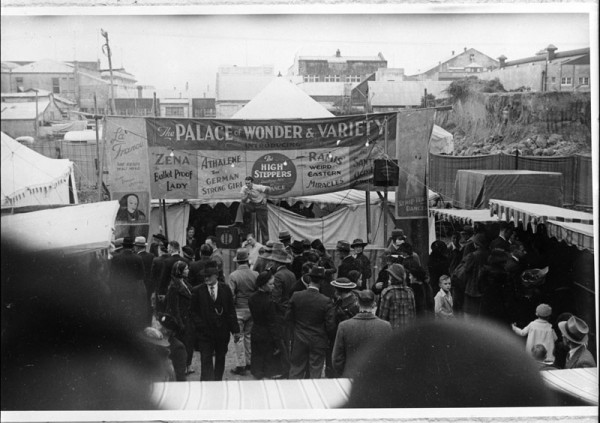 The Palace of Wonder & Variety, Waikato Winter Show, c.1940 HCL_01657
The Ruakura Farmers' Conference was the forerunner for the current New Zealand National Fieldays and was established in 1949. The 200 seat Municipal Hall was set to be the venue throughout the 5-day event, but nearly 600 registrations meant the State Theatre in Hamilton was hastily hired as well. The Ruakura Animal Research Station unveiled their milking machine to 4500 visitors in 1954, and by the 1960s the conference had up to 40 exhibits and 8000 attendees.
Ruakura Farmers' Conference, 1968 HCL_04741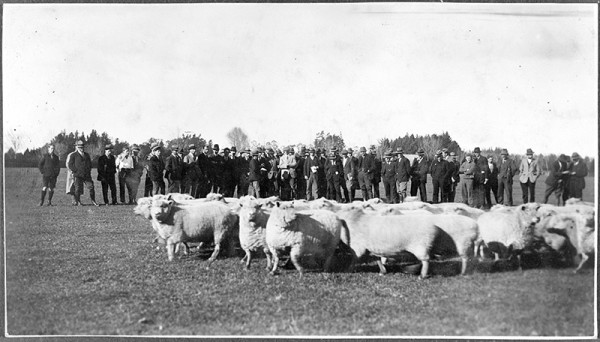 Sheep herding demonstration at Ruakura Fieldays, c.1950 HCL_04769
The Starlight Ballroom, on Anglesea Street, saw a lot of night time action from the time it opened in 1953. Dances were commonly held on Wednesday, Friday and Saturday nights from 8 til midnight. The club was considered 'dry' as it only served soft drinks.
In December 1953, after many months of decorating and covering up 'ghastly' buildings, Queen Elizabeth II and the Duke of Edinburgh arrived for their visit to New Zealand. In Hamilton they enjoyed a civic dinner and a youth fiesta at Hamilton's Bledisloe Hall, before spending the night at the Hamilton Hotel on Victoria Street.
"A whole lot us gathered up at the corner to see her go past…we got a wee glimpse of her." Helen Anne Williams, OH0320, Hamilton City Libraries Oral History Collection.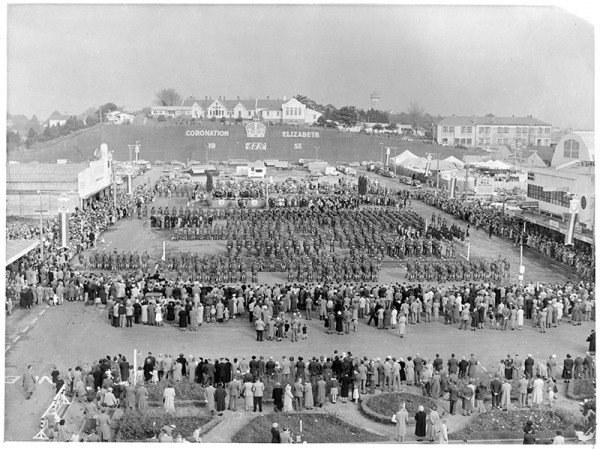 Celebration for the coronation of Queen Elizabeth II, 1953 HCL_04520
Sport
Young and old have always loved the water. The people of Hamilton are lucky to have the mighty Waikato River flowing through it and a number of streams and lakes on their back doorsteps.
Initially a source of food and transport for Maaori; the river is a lifeline for our water supply, transport and electricity. It has also provided us with some great fun and entertainment from raft racing and swimming to motor boating and fishing.
Fairfield School pupils and teachers on the PS Manuwai, travelling beneath the original railway bridge, 1926 HCL_07938
Originally built in 1894, the Manuwai was shipped from London and assembled in Wanganui. It was a paddle steamer capable for carrying both passengers and cargo and became a familiar sight on the Waikato River, often used in the early 1900s as a recreational boat. Often people would dance onboard accompanied by a piano. In the 1930s the Sunshine League would take children from Hamilton to a holiday camp at Port Waikato via the river.
The Hamilton Rowing Club was formed at the inaugural meeting of interested sportsmen in October 1903. With the help of the already established Huntly, Ngaruawahia and Waitemata Clubs they held their first regatta on January 19 1904 at Hamilton Lake. The regatta raised money for boats and by 1908 the Club had built a boatshed.
The Club continued to be very successful, canoeing became popular in the 1930s, as did yachting for those who could afford boats. In 1960 an additional club was formed, the Waikato Rowing Club.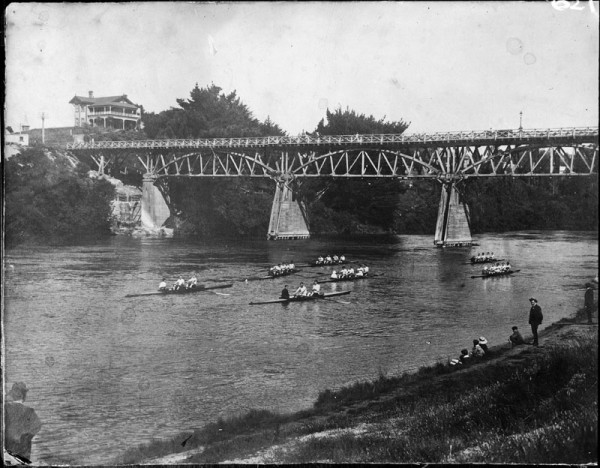 Rowing under the Union Bridge, c.1909 HCL_00621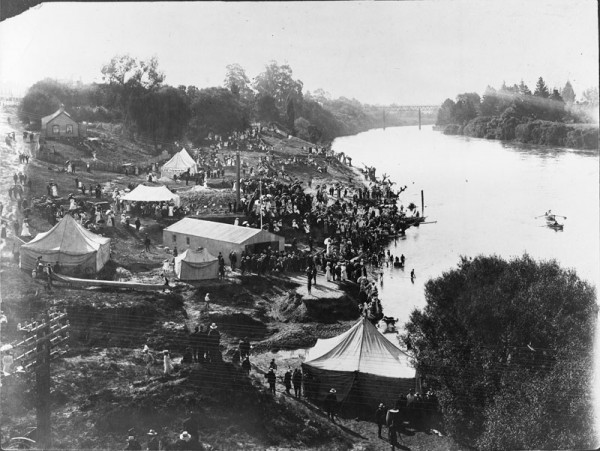 The inaugural Hamilton Regatta and Aquatic Carnival, c 1907 HCL_00968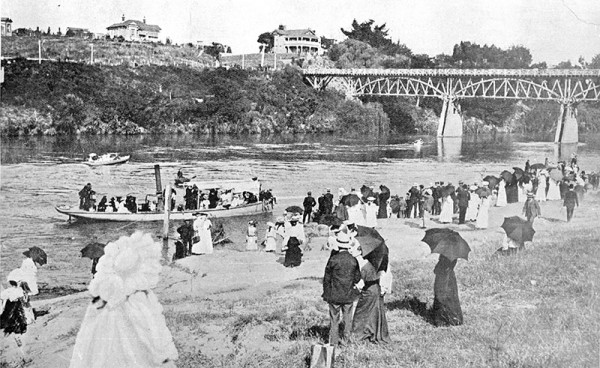 Ferry Bank, c. 1900 HCL_M00270.10
Hamilton Lake is a natural lake, once a source of food for Maaori and later used by militia for recreation and training. By the 20th Century there were brass band concerts and carnivals on its shores and canoe and boating regattas on the water. You could safely swim in the lake until the mid-1960s when chemicals were introduced to combat unwanted aquatic weeds.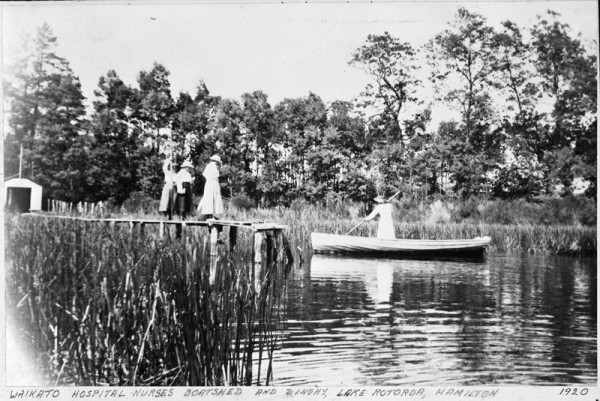 Boating on Hamilton Lake, 1920 HCL_00405
The Hamilton Yacht Club was founded in 1938 and was originally a shed based on the eastern side of Hamilton Lake, where the water tower now stands. By 1949 a new punt storage facility, starting tower and workshops had been built. In 1952 they began clearing an area for the club on the western side of the lake, which was opened in 1963.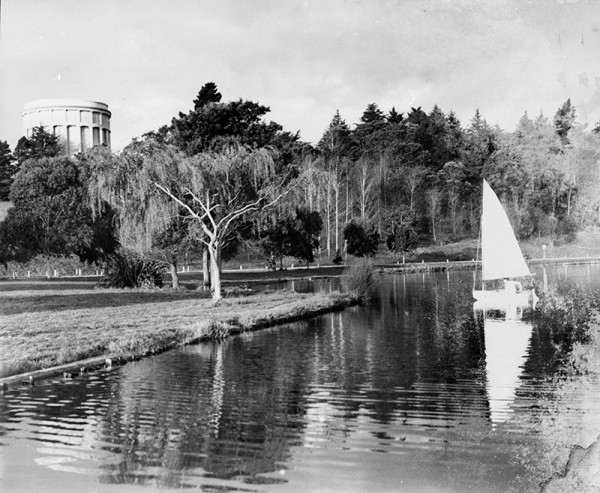 Sailing on Lake Rotoroa, c. 1940s HCL_08944
Both the Waikato River and Hamilton Lake were used for swimming. The Hamilton Borough Council started the public swimming baths in 1886 by cordoning off parts of the river. In 1890 the Hamilton Swimming Club was established. In December 1912 a new separate swimming baths was opened in Victoria Street, the 'Coronation Baths'. These became the 'Municipal Swimming Baths' and the building still remains today, listed under the District Plan. The Rovers Amateur Swimming Club was formed in 1945 by WWII veterans.
"Unbeknown to our parents we would float down the river as far as we could. We thought it was neat floating down the river on a big tree". Warwick Johnson OH0287 "A lifetime in the house removals business; an interview with Warwick Johnson"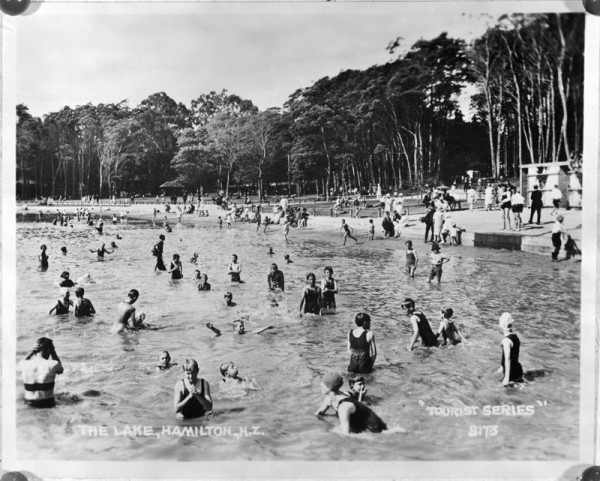 Swimming at Lake Rotoroa, c. 1927 HCL_01021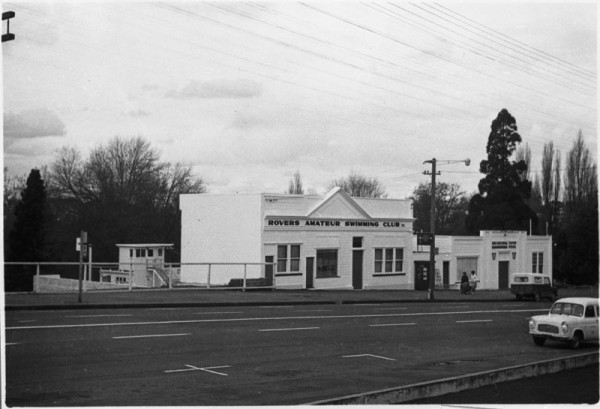 Municipal Tepid Swimming Pool, c. 1970 HCL_09244
Early residents of Hamilton typically played traditional English sports. Rugby and cricket were the most popular team sports; however, women were not allowed to play. Sport and athletic days were for fun and active socialising, rather than competitive playing.
The 1870s saw horse racing become regular and popular events. Even though most Hamilton residents didn't own or have individual access to racing horses, the day of the races was still an important occasion for Hamilton.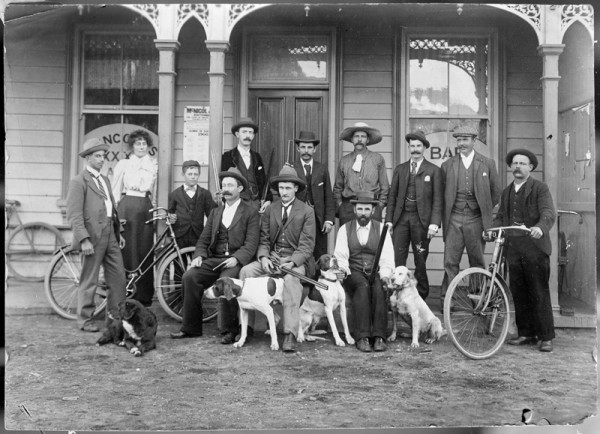 Hamilton Gun Club, 1907 HCL_02142
The popularity of sports escalated after the Great War. Canoeing, squash, badminton and indoor bowls all started to arrive, and with them the need to more suitable sports grounds and facilities.
The Hamilton Round the Bridges fun run was established by the Hamilton Harrier Club (now known as the Hamilton Hawks) to showcase the country's top athletes. Past participants have included Barry Magee, Peter Snell and Dick Quax.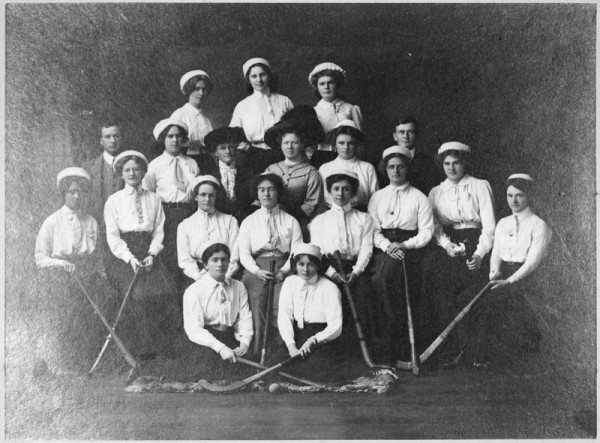 Hamilton Ladies Hockey Club, c.1905 HCL_02367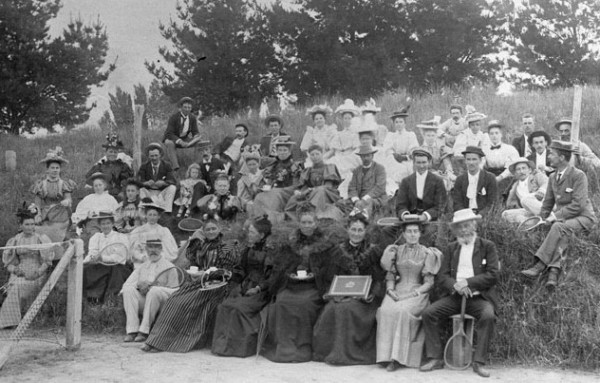 A tennis party, believed to be the home of Dr A S Brewis, date unknown HCL_00639
Cricket was likely the first sport to be played in Hamilton, with a club reportedly formed in 1866. The land on which Seddon Park resides was originally designated for recreational use, but when the Domain Board took control of the land in 1886 it remained a swampy paddock with stock grazing and crops growing on it. In 1953 the park became home of the Northern Districts Association and a grandstand was built the same year.
The early 1920s and 30s saw the region successfully compete in minor association competitions, which increased spectator loyalty. Northern Districts Association competed for the Plunket Shield, and in the summer of 1963 played a close and exciting match for the shield against Canterbury with people flocking to the park or gathering around radios.
Hamilton welcomed rugby in 1874. On a visit to Auckland a group of Hamiltonians decided to form a team and named themselves the Bounders. Surveyors working in the district were their first competitors. The match took place on Mr L. B Harris' paddock, situated between Hamilton and Ngaruawahia on 26 September 1874. The Waikato Times described it as a 'lively game of football' (Waikato Times, September 29, 1874 p2). After the first match interest in rugby spread throughout the districts. Rugby Park opened in 1925 with a new stand 60ft long. This ground has since been renamed to FMG Stadium Waikato.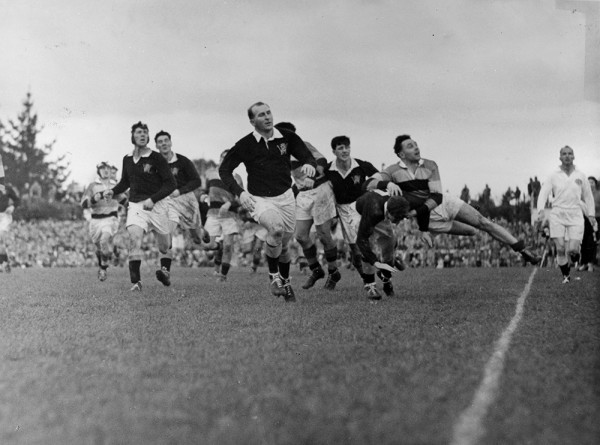 Waikato v Wellington for the Ranfurly Shield at Rugby Park, 1953 HCL_03678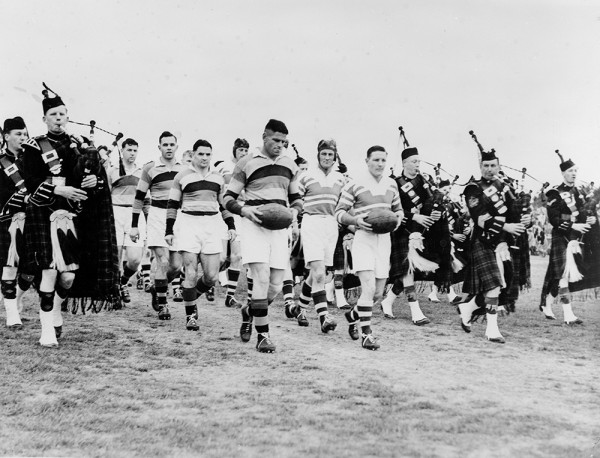 Waikato v Manawatu for the Ranfurly Shield, Waikato captained by Haz Cately, c.1950s HCL_03666