During the 1981 Springbok tour, anti-tour protestors invaded Rugby Park in Hamilton and stopped the game. Hamilton City Libraries presents a 4-part audio documentary about the protest featuring untold stories from the day that became one of the bloodiest in this city's history.
This series features audio clips loaned from Nga Taonga Sound & Vision and interviews from the Hamilton City Libraries collection. Recent interviews were collected in conjunction with Waikato Museum's 1981 Exhibition (2021-22).
Do you have memories to share about the events of 1981? Contact our Whakaputu/Special Collections Librarian – Oral History to share your story via our Oral History Expression of Interest Form.
Listen to all four parts of this series below!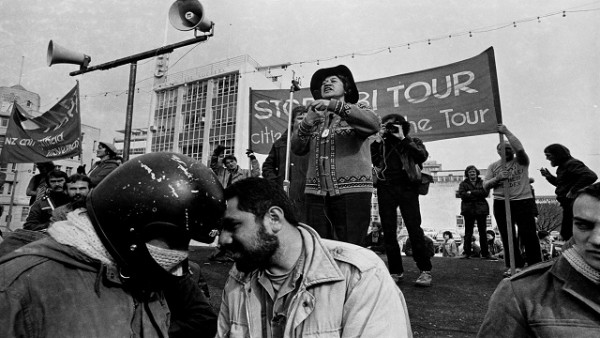 1981 Springbok tour Hamilton - Eva Rickard addressing the crowd - Garden Place
Kees Sprengers HCL_09760