Librarian's Choice: Peter May's Lewis Trilogy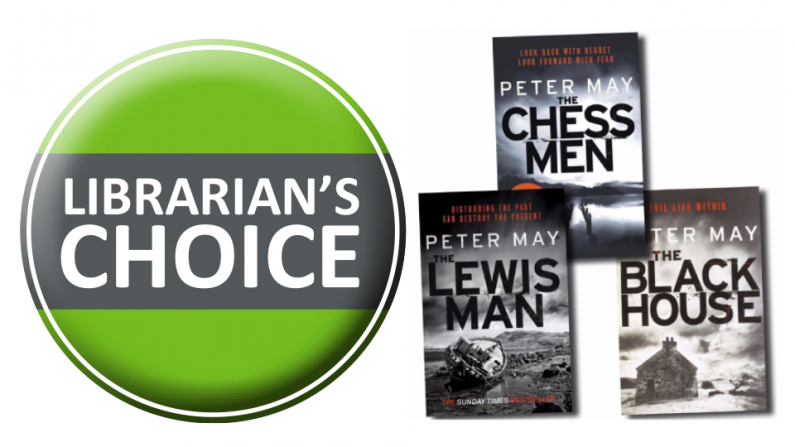 Title: The Lewis Trilogy - The Black House, The Lewis Man, The Chess Men
Author: Peter May
The books in this trilogy are also available as eAudiobooks through Wheelers ePlatform, so you can borrow them online while we are in Level 4 lockdown.
The first book in this series The Black House, introduces us to the main character of the trilogy, Detective Fin Macleod. He is sent from Edinburgh to investigate a murder on the Island of Lewis in the Outer Hebrides of northwest Scotland. Fin grew up on Lewis and seems an obvious choice to investigate this brutal murder, as he is familiar with the place and people. Fin's arrival brings up some unpleasant memories from his past and he looks back over reasons why he left Lewis at eighteen and returned only once for a funeral. Having recently lost his young son, he is dealing with grief in his present life and the breakdown of his marriage, he tries to reconnect with his past during his investigation into the murder of one of his childhood bullies.
The setting for this trilogy, Lewis, is a bleak and unforgiving environment and this is brought to life in the author's writing. The author has a strong affinity with this land and he conveys the impression of a place stood still in time, separated from the rest of Scotland by just a ferry or plane ride, but seemingly decades apart in lifestyle.
The following books The Lewis Man and The Chess Men rejoin Fin having left the police force and moving back to Lewis, rekindling old relationships and again investigating more murders in Lewis.
Style and Themes
This book is at its most basic a murder mystery, yet it also delves deep into the culture and atmosphere of life on this remote island. If you enjoy a character-driven storyline with an authentic and brooding main character, you will not be disappointed.
I thoroughly enjoyed this series, the murder mysteries were original and kept me guessing, but more intriguing for me was discovering the setting for these books, having never known anything about these islands. These stories led me to discover information about this place I never would have known. The writer definitely takes you on a journey into an unfamiliar environment and makes you want to know more.