Hamilton in the Great War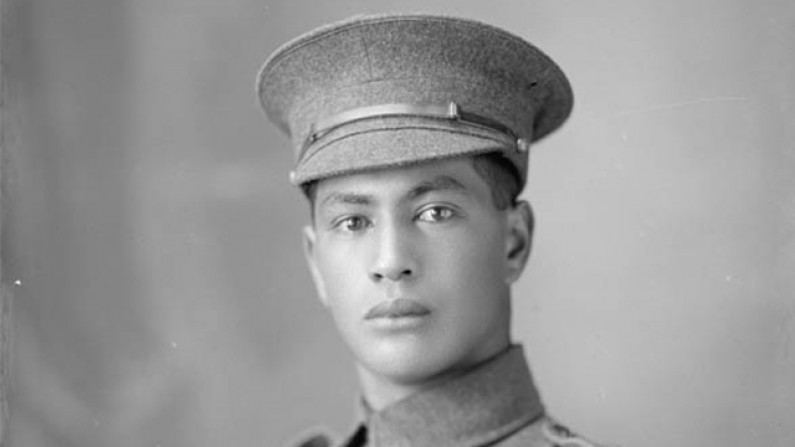 What was life like over 100 years ago? What were the issues of the day? What were people talking about?
This exhibition uses newspaper stories and images to take you back in time to Hamilton, 1915.
Cover Image: Unknown WW1 Soldier, HCL_13682
All articles and advertisements have been sourced from the Waikato Times, 1915, unless stated otherwise. Some articles have been abridged. All spelling and grammar are as they appeared in the newspapers in 1915. As photographs from 1915 are limited, images of Hamilton have been sourced from throughout the 1910s to build an impression of the town as it was. Click on the newspaper images to view a larger version.
Hamilton 1915
Life continued as usual in Hamilton in 1915. The town was a predominantly farming community with just over 4000 people. Frankton was a separate borough. Most residents were mainly British immigrants who were very patriotic towards the King. Residents loved parades, carnivals, picnics, brass bands and had a great sense of community spirit. While New Zealand was on the other side of the world to the conflicts of the Great War, citizens were still expected to do their bit. Few people thought that the war would last more than a year – young recruits were eager to enlist, unaware of the horrors they would face overseas.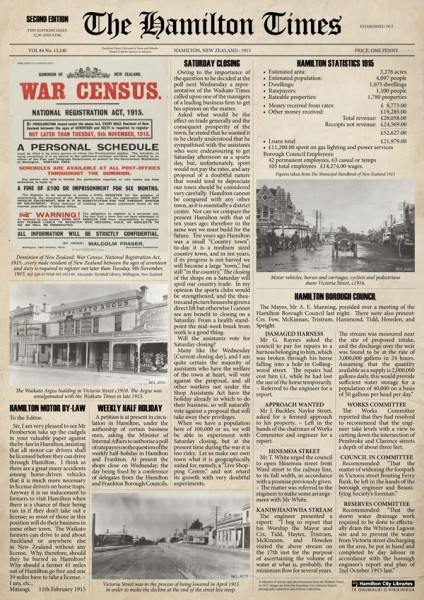 For Charity
The war brought out the best in people living in Hamilton. Those at home used charity work as a way of supporting the war effort and their loved ones on the front lines in Europe and the Middle East. Patriotic societies, mostly made up of women, were formed to help collect items such as boots, socks, waistcoats and other clothing for soldiers. School children made handkerchiefs and knitted socks while money and gifts were collected for wounded soldiers and their families. Colourful public events, such as mock courts, fairs, concerts and dances, were held to raise funds and bring the community together.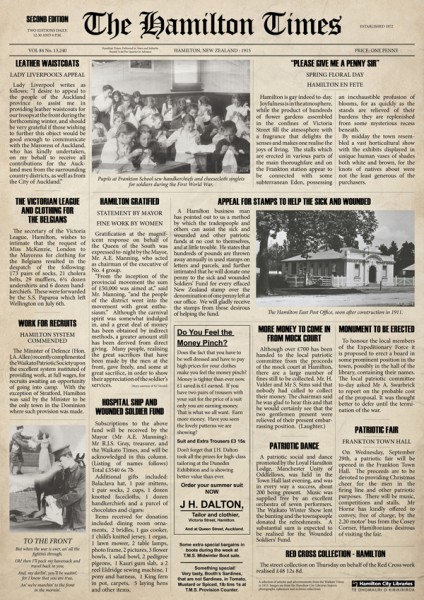 Clubs and Churches
Numerous clubs operated in Hamilton, including sports and racing, drama and scout clubs. They held competitions, carnivals and recitals. Many clubs lost members to the war, while others helped raise funds for soldiers. Church members also helped with patriotic fundraising. Church services were held as usual and children attended Sunday school. Presbyterian parishioners enjoyed their new St Andrew's Church, opened in 1914 and built on the corner of Te Aroha Street and River Road, while Anglicans were fundraising for a new church of their own as the old St Peter's Church was full of borer. The foundation stone was laid in October 1915 and the church was dedicated in December 1916.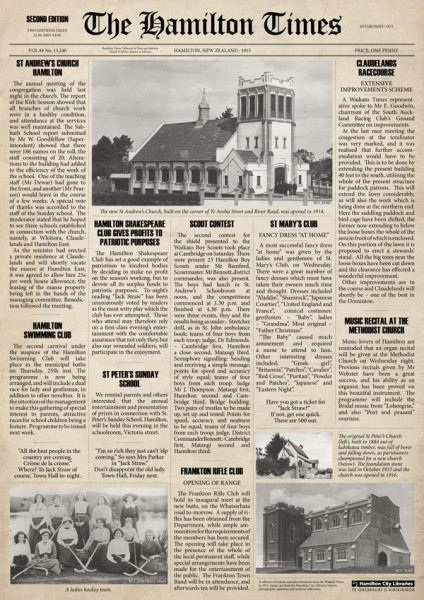 Entertainment
There were plenty of entertainment options for Hamilton residents. Carnivals, shows, picnics, dances and parades were held throughout the year. People could watch recent films at their local theatre, including the Theatre Royal which opened in March 1915. Various events, including races, tournaments and regattas were held to celebrate specials occasions such as Anniversary Day, Easter and St Patrick's Day. The Waikato A&P Show was always a hit, with numerous entrants for its competitions, while visitors enjoyed the atmosphere, the produce and products on show.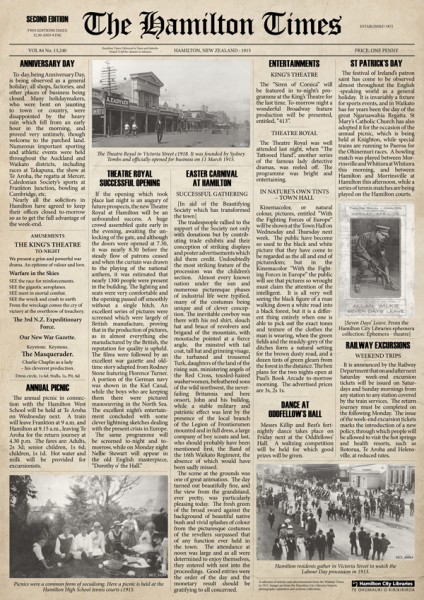 Daily Life
For most people life went on as normal in Hamilton, with a focus on raising money to help the war effort. Children went to school and people shopped and went about their daily tasks. There was no radio or television so people relied on the Waikato Times and telegrams for news, while small informative newsreels were shown between films at the local theatres. There was no shortage of food. In fact New Zealand was called upon to supply goods overseas. There seemed to be plenty of money around for charity, balls, carnivals and sporting events. Many projects continued, such as the lowering of southern Victoria Street and the installation of a public telephone and telegraph bureau.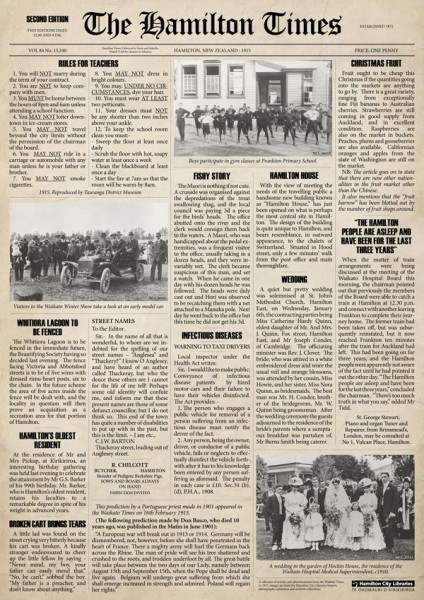 Farming
Farming has always been an important industry in the Waikato region. Stock was sold in Hamilton at the saleyards and exported meat was shipped overseas. Numerous advertisements appeared in the local paper selling everything from seeds and hay to animals and land. Shows with an agricultural theme such as the Waikato Winter Show and the Waikato Agricultural Show were as popular as ever with entries exceeding expectations. In 1915 directors of the Auckland Farmers' Freezing Works were investigating Horotiu as a proposed site for a new Waikato freezing works.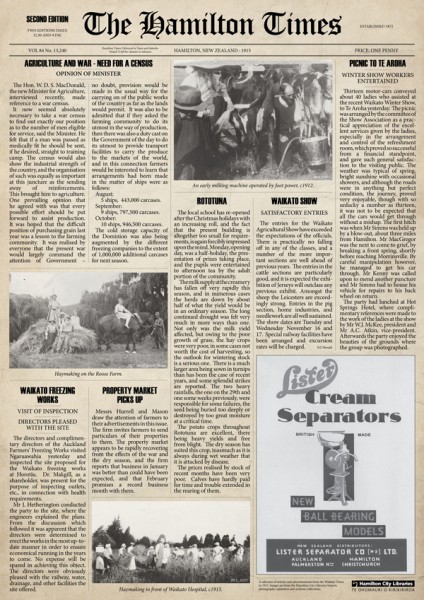 Emergency services
There was only one ambulance in Hamilton, run by the St John Ambulance Organisation, which also helped train nurses for the war. The small fire station was inadequate and firefighters relied on help from taxi drivers to pull their reel. It wasn't until the end of 1915 that a motorised chemical fire engine was ordered. Six firemen had enlisted for the war, leaving them short-staffed. Police however, were not allowed to enlist. Although most citizens were law abiding, some young people still caused problems, often thanks for alcohol. Homicides and serious assaults were unusual and it was often minor offences that kept courts busy. Vagrancy was common, and against the law, as was working on a Sunday.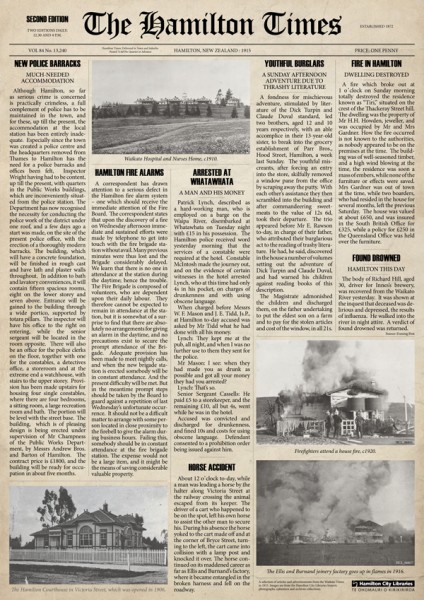 Explore more of our Heritage Collections Online through our online database.
For primary sources from other 1915 newspapers, you can explore PapersPast.