Research your Family History for Free!
Now is the perfect time to begin researching your family history, and thanks to our friends at Ancestry Library Edition, it's now even more accessible!
Use your Library Card and passcode to log in and use Ancestry Library Edition from home.
If you need help using this service, contact heritage@hcc.govt.nz.
We can help you research your family history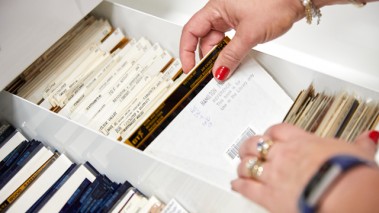 The Heritage section on Level 3 of the Central Libraryhas resources for those looking to make a start on their genealogy research, as well as for more experienced researchers. Of particular value is our
extensive range of unique Waikato material. We also have New Zealand and international resources.
Resources include:
Indexes to New Zealand births, deaths and marriages registrations, 1840-1990, on microfiche.

New Zealand electoral rolls, which contain details of persons registered to vote.

New Zealand cemetery records, which contain indexed inscriptions to headstones as well as a geographical table for locating individual cemeteries.

Community archives, which include some baptismal and marriage registers, personal papers, letters, and diaries.

Council archives, which include early ratepayers' registers and minute books.

School, church and local histories.

Newspapers including the Waikato Times on microfilm from 1872 onward.

Historical directories including business, householder and telephone directories, some dating back to 1866.

Shipping passenger lists, mainly from the middle 19th century, which list ships and their passengers.

Historic maps featuring a good selection of maps for Hamilton and the Waikato including Waikato Militia land allocation maps.

Historic photographs featuring a wide range of photographs of Hamilton and the Waikato from the 1860s onward.
Family History Databases
This subscription database gives you access to a wide variety of records to help with your family history research. This includes records from the United States and Canada, the United Kingdom and Ireland, Europe, Australia and New Zealand.
This subscription database is another excellent resource for family history researchers. It includes records from the United States and Canada, the United Kingdom and Ireland, Australia and New Zealand.
For use at Hamilton City Libraries' locations only.
Maaori Land Court Minute Books Index
The Maaori Land Court Minute Books Index provides and easy access to an index of over 1,100 minute books from the Taitokerau, Waikato-Maniapoto, Tairawhiti, Waiariki, Aotea, Takitimu, and Waipounamu Maaori Land Court Districts.
For use at Hamilton City Libraries' locations only.
General Resources
Interment - search through millions of cemetery records, from thousands of cemeteries.
Cyndi's List - a highly-regarded list of genealogy sites on the Internet.
Familysearch - a comprehensive database from the Latter Day Saints, lots of material from all over the world including images.
RootsWeb - hosts a mailing list for people who are interested in genealogy.
Find a Grave - Contains records for 92 million grave records in 400,000 cemeteries in 200 countries.
Gen Web - links to lots of genealogical information from all over the world.
New Zealand
Archives New Zealand - includes some very useful research guides.
Auckland City Libraries: Online Resources - includes Auckland area shipping lists, crown grants and cemetery records; Armed Constabulary of NZ 1867-1877; Auckland Police Census 1842-1846.
Births Deaths and Marriages - gives contact details, prices, etc., or you can search the historical indexes.
Bibliography of Published New Zealand Family Histories - from the University of Waikato available in the FindNZ database.
Christchurch City Libraries - lots of useful information, including getting started tips and passenger lists.
Digital NZ - Searches a wide variety of New Zealand material including newspapers, images, maps, film and audio.
Hocken Library, University of Otago - the history and culture of New Zealand, the Pacific and Antarctica, with a special emphasis on the regions of Otago and Southland.
Maaori Newspapers.
National Library of New Zealand - family history page. Also check the pages for collections, including AtoJ's online (Appendices to the Journals of the House of Representatives 1858-1930) and Papers Past for historic newspapers.
New Zealand Electronic Text Centre - free online archive of New Zealand texts. Including Cyclopedia of New Zealand.
New Zealand Society of Genealogists.
Pearls Pad - various indexes for Northland, Auckland, Coromandel and Waikato.
Thames NZ Genealogy - This blog has lots of useful information if researching Thames families.
The Treasury - a purpose-built archive and family history centre in Thames. It has lots of information about the people of Thames.
University of Waikato - has some interesting resources in their digital collections including historical maps of the Waikato.
Varcoe's New Zealand Marriages database - is designed to be used in conjunction with the microfiche Marriages Indexes published by the New Zealand Registrar-General's Office.
Military
Auckland Museum Online Cenotaph - a biographical database of New Zealand service personnel from the 19th century to today.
Commonwealth War Graves Commission - includes the 'Debt of Honour Register' listing the 1.7 million men and women of the Commonwealth forces who died during the two world wars and the 23,000 cemeteries, memorials and other locations worldwide where they are commemorated. The register can also be searched for details of the 67,000 Commonwealth civilians who died as a result of enemy action in the Second World War.
New Zealand Defence Force - Information about how to obtain service records for those who served in New Zealand forces in World War II.
New Zealand War Graves Project - Aims to photograph all war graves of members of the New Zealand Armed Services who have died in conflicts from the Anglo-Boer War to the present day.
Soldiers of Empire - a database of soldiers who served in the New Zealand Land Wars 1860-1870.
United Kingdom
GOV.UK - for ordering copies of birth, marriage and death certificates.
DustyDocs - a portal to lots of sites from England, Scotland, Ireland and Wales.
FreeBMD - an on-going collaborative project transcribing the Civil Registration index of births, deaths and marriages for England and Wales and to make this information freely available on the internet. See also FreeCEN (census data) and FreeReg (parish registers).
GenUKI - homepage has links to a large range of British and Irish information.
The National Archives - includes a searchable catalogue.
UK BMD - offers links to sites which provide UK birth, marriage, death and census records. See their Online Parish Clerks page for links to sites which offer transcriptions of parish records.