For Fans of Miss Peregrine's Home of Peculiar Children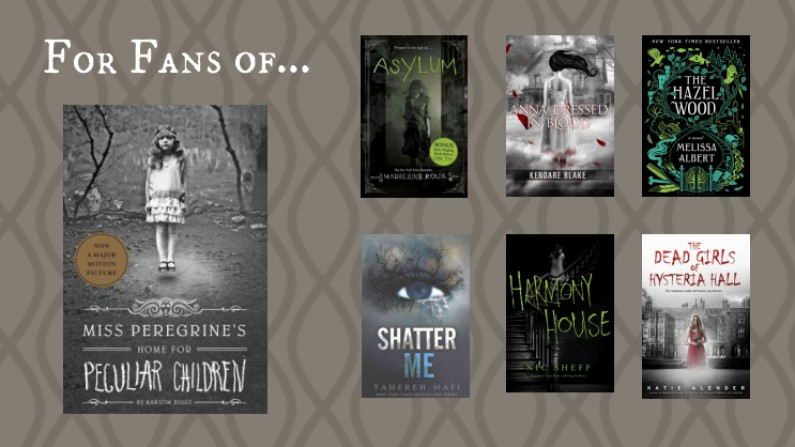 If you enjoyed Miss Peregrine's Home for Peculiar Children by Ransom Riggs, we think you'll like these horror, thriller, and sci-fi fantasy reads! Many are available in eBook format, too.
Click on any book title to check availability or place a hold. Holds are free for Young Adult items.
by Madeleine Roux

For sixteen-year-old outcast Dan Crawford, the summer program at New Hampshire College Prep is a lifeline. Finally, a chance to make some friends before college. Even if that means staying in a dorm that used to be a old asylum. Soon Dan's hanging out with Abby and Jordan, and summer is looking up. But then he learns that the asylum was not just any sanatorium - it was a last resort for the criminally insane. As Dan, Abby and Jordan explore the hidden recesses of their creepy summer home, they discover it's no coincidence that the three of them ended up here. And that some secrets refuse to stay buried...

by Martin Bedford

Fourteen-year-old Alex Gray wakes up one morning to discover he's not in his own bedroom. More surprising is that he doesn't recognize his hands, or his legs... When he looks in the mirror he gets the shock of his life! How is it possible that Alex has become another boy -– a boy who everyone calls Philip? And how have six whole months passed overnight? A riveting psychological thriller by a brilliant new voice in children's books.

by Nic Sheff

After her alcoholic mother's death, Jen's father cracked. He dragged Jen to a dilapidated old manor on the shore of New Jersey to start their new lives—but Jen can tell that the place has an unhappy history. Harmony House is more than just a creepy old estate. It's got a chilling past—and the more Jen discovers its secrets, the more the house awakens. Visions of a strange boy who lived in the house long ago follow Jen wherever she goes, and her father's already-fragile sanity disintegrates before her eyes. As the forces in the house join together to terrorize Jen, she must find a way to escape the past she didn't know was haunting her—and the mysterious and terrible power she didn't realize she had.

by Melissa Albert

Seventeen-year-old Alice and her mother have spent most of Alice's life on the road, always a step ahead of the uncanny bad luck biting at their heels. But when Alice's grandmother, the reclusive author of a cult-classic book of pitch-dark fairy tales, dies alone on her estate, the Hazel Wood, Alice learns how bad her luck can really get: Her mother is stolen away—by a figure who claims to come from the Hinterland, the cruel supernatural world where her grandmother's stories are set. Alice's only lead is the message her mother left behind: "Stay away from the Hazel Wood."

by Tareheh Mafi

Ostracized or incarcerated her whole life, seventeen-year-old Juliette is freed on the condition that she use her horrific abilities in support of The Reestablishment, a post-apocalyptic dictatorship, but Adam, the only person ever to show her affection, offers hope of a better future.

by Celine Kiernan

I think the fire changed us - me and Dom. Though I didn't feel much different at first, I think something inside of us opened up, or woke up. I think that's how the goblin boy was able to see us. Though he'd been there for every summer of our childhood - mine and Dom's - we'd only been stupid boys until then. Stupid, happy, ignorant boys. And what in hell would he have had in common with two stupid boys? But after the fire we were different. We were maybe a little bit like him. And so he saw us, at last, and he thought he'd found a home.

by Andrea Portes

Daffodil Franklin has plans for a quiet summer before her freshman year at college, and luckily, she's found the job that can give her just that: housesitting a mansion for a wealthy couple. But as the summer progresses and shadows lengthen, Daffodil comes to realize the house is more than it appears. The spacious home seems to close in on her, and as she takes the long road into town, she feels eyes on her the entire way, and something tugging her back. What Daffodil doesn't yet realize is that her job comes with a steep price. The house has a long-ago grudge it needs to settle . . . and Daffodil is the key to settling it.

by Kendare Blake

For three years, seventeen-year-old Cas Lowood has carried on his father's work of dispatching the murderous dead, traveling with his kitchen-witch mother and their spirit-sniffing cat, but everything changes when he meets Anna, a girl unlike any ghost he has faced before.

by Katie Alender

Sixteen-year-old Cordelia and her family move into the house they just inherited in Pennsylvania, a former insane asylum the locals call Hysteria Hall--unfortunately the house does not want defiant girls like Delia, so it kills her, and as she wanders the house, meeting the other ghosts and learning the dark secrets of the Hall, she realizes that she has to find a way to save her sister, parents, and perhaps herself.

by Paige McKenzie

Something freaky's going on with Sunshine's new house... there's the chill that wraps itself around her bones, the giggling she can hear in the dead of night, and then the strange shadows that lurk in her photographs. But the more weird stuff that happens, the less her mum believes her. Sunshine's always had a quirky affiliation with the past, but this time, history is getting much too close for comfort... If there is something, or someone, haunting her house, what do they want? And what will they do if Sunshine can't help them? As things become more frightening and dangerous, and the giggles she hears turn to sobs and screams, Sunshine has no choice but to accept what she is, face the test before her and save her mother from a fate worse than death.