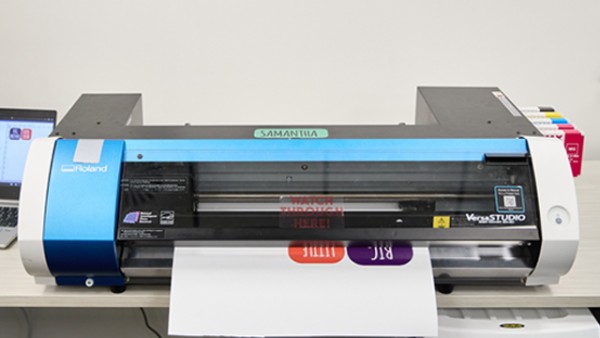 What is it?
Samantha (also known as a Roland BN-20) is a full-colour inkjet printer and vinyl cutting machine located at Auaha Central Library. It can be used to design and print anything from full-colour stickers and decals to custom t-shirts and more.
Please note: Unfortunately our Roland BN-20 is out of order. We are currently investigating repair options and timeframes. In the meantime, you may be interested in the Brother Scan N Cut at Auaha Makerspace Te Kete Aronui.
Choose or create an image to print. For best printing quality and finish, ensure you are using a high-resolution image.
One option for designing your own image is to use the Computer Suite at Auaha using the Affinity Designer software. However, you can also use any designing software you may have access to at home. There also other ways, such as Inkscape and Canva are great options for those unfamiliar with graphic design.
Once you are done with designing you will need to create cut lines and save your file as a PDF. Please click here for our instructions on how to use Samantha. Our instructions are created on Google Slides with accessibility settings in mind.
We have a variety of different material available for vinyl printing here at Auaha.
Gloss: We have durable standard gloss sticker material. This can be used for everyday stickers to car decals. These are very high tack and will remove paint from surfaces.
Clear: This material is like the standard gloss, but clear. Great for using on windows or other transparent surfaces but doesn't colour as deeply as standard gloss.
Paper: A nice, thick, paper stock. Great for posters, stencils and cards. Finer cutting details are harder to achieve with this machine.
Phototex: A canvas-like, super durable and moveable material. Great for wall decals, art prints and floor stickers. Can be moved almost infinitely without damaging surfaces but is susceptible to rubbing.
Heat Transfer Vinyl: Great for personalising t-shirts, hoodies or anything cloth based. You can also use Hoppip the heat press to complete the job!
The materials are 48cm wide. Prices below are per 10cm length printed/cut:
$2 Gloss.

$2 Clear.

$2 Paper.

$3 Phototex.

$6 Heat Transfer Vinyl.
There is no need to book this kit. Simply come into Auaha Central Library and ask one of our friendly staff about it. You can also email us to get more information.