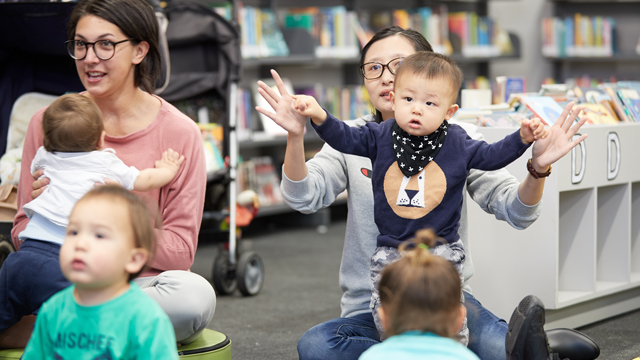 Looking for a relaxed, fun group where you and your baby or toddler can enjoy music and movement together? It's time to Wriggle & Rhyme! Classes combine singing, movement and rhythm, in a way that will delight and stimulate your child.

Wriggle & Rhyme is aimed at babies and children under two years. Older siblings are welcome.
Update 18 February 2021: After moving back into Alert Level 1, Wiggle & Rhyme will continue at regular locations and times from Friday 19 February. There will be an additional session at Central Library on 19 February to make up for sessions which were cancelled under Alert Level 2 earlier this week. Please stay home if you or your child are unwell.
Upcoming event sessions
Friday 26 February
Dinsdale Library
10:30am - 11:00am
Tuesday 2 March
Chartwell Library
10:30am - 11:00am
Wednesday 3 March
Central Library
10:30am - 11:00am
Thursday 4 March
St Andrews Library
10:30am - 11:00am
Friday 5 March
Dinsdale Library
10:30am - 11:00am
Tuesday 9 March
Chartwell Library
10:30am - 11:00am
Wednesday 10 March
Central Library
10:30am - 11:00am
Thursday 11 March
St Andrews Library
10:30am - 11:00am
Friday 12 March
Dinsdale Library
10:30am - 11:00am
Tuesday 16 March
Chartwell Library
10:30am - 11:00am
Wednesday 17 March
Central Library
10:30am - 11:00am
Thursday 18 March
St Andrews Library
10:30am - 11:00am
Friday 19 March
Dinsdale Library
10:30am - 11:00am
Tuesday 23 March
Chartwell Library
10:30am - 11:00am
Wednesday 24 March
Central Library
10:30am - 11:00am
Thursday 25 March
St Andrews Library
10:30am - 11:00am
Friday 26 March
Dinsdale Library
10:30am - 11:00am
Tuesday 30 March
Chartwell Library
10:30am - 11:00am
Wednesday 31 March
Central Library
10:30am - 11:00am