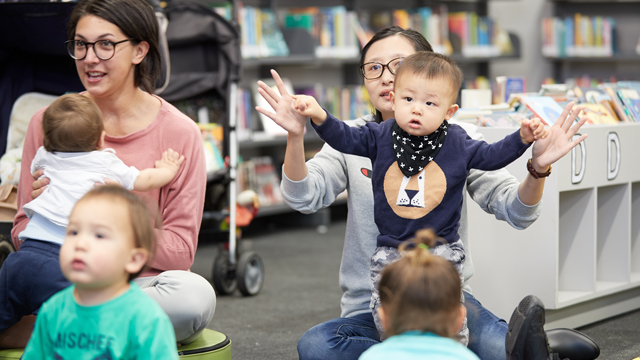 Looking for a relaxed, fun group where you and your baby or toddler can enjoy music and movement together? It's time to Wriggle & Rhyme! Classes combine singing, movement and rhythm, in a way that will delight and stimulate your child.

Wriggle & Rhyme is aimed at babies and children under two years. Older siblings are welcome.
Wriggle & Rhyme has restarted at Central Library! Tuesdays, 10.30am - 11am until the end of the school term, with other branches resuming in Term 3.
Upcoming event sessions
Tuesday 4 August
Chartwell Library
10:30am - 11:00am
Wednesday 5 August
Central Library
10:30am - 11:00am
Thursday 6 August
St Andrews Library
10:30am - 11:00am
Friday 7 August
Dinsdale Library
10:30am - 11:00am
Tuesday 11 August
Chartwell Library
10:30am - 11:00am
Wednesday 12 August
Central Library
10:30am - 11:00am
Thursday 13 August
St Andrews Library
10:30am - 11:00am
Friday 14 August
Dinsdale Library
10:30am - 11:00am
Tuesday 18 August
Chartwell Library
10:30am - 11:00am
Wednesday 19 August
Central Library
10:30am - 11:00am
Thursday 20 August
St Andrews Library
10:30am - 11:00am
Friday 21 August
Dinsdale Library
10:30am - 11:00am
Tuesday 25 August
Chartwell Library
10:30am - 11:00am
Wednesday 26 August
Central Library
10:30am - 11:00am
Thursday 27 August
St Andrews Library
10:30am - 11:00am
Friday 28 August
Dinsdale Library
10:30am - 11:00am
Tuesday 1 September
Chartwell Library
10:30am - 11:00am
Wednesday 2 September
Central Library
10:30am - 11:00am
Thursday 3 September
St Andrews Library
10:30am - 11:00am
Friday 4 September
Dinsdale Library
10:30am - 11:00am
Tuesday 8 September
Chartwell Library
10:30am - 11:00am
Wednesday 9 September
Central Library
10:30am - 11:00am
Thursday 10 September
St Andrews Library
10:30am - 11:00am
Friday 11 September
Dinsdale Library
10:30am - 11:00am
Tuesday 15 September
Chartwell Library
10:30am - 11:00am
Wednesday 16 September
Central Library
10:30am - 11:00am
Thursday 17 September
St Andrews Library
10:30am - 11:00am
Friday 18 September
Dinsdale Library
10:30am - 11:00am
Tuesday 22 September
Chartwell Library
10:30am - 11:00am
Wednesday 23 September
Central Library
10:30am - 11:00am
Thursday 24 September
St Andrews Library
10:30am - 11:00am
Friday 25 September
Dinsdale Library
10:30am - 11:00am