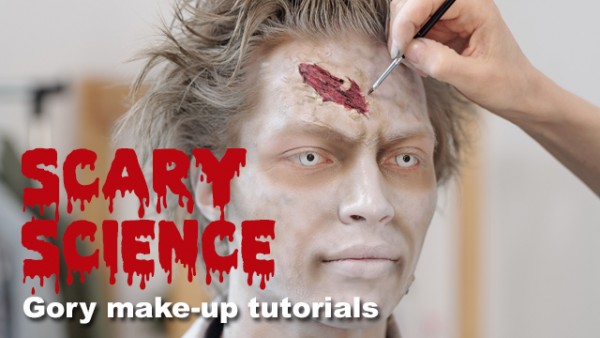 The spooky season is upon us! Sign up to our Scary Science programme and learn some DIY special effect tricks in preparation for Halloween. This week-long programme will introduce teens and adults to the basics of SFX and make-up artistry, covering everything from fake blood recipes to creating perfectly flaky zombie flesh.

Just register once for this programme using the form below and you will receive a Zoom link to the live online tutorial each morning. More information on this process will be provided upon registering.
See below for the schedule of what special effects will be covered on each day, as well as the items you will need for each tutorial.
Learn how to make a variety of fake blood recipes with the contents of your kitchen cupboard. Then use your fake blood in the SFX tutorials throughout the week.
Tutorial essentials:
Food colouring (red, blue, yellow & green)

Syrup (glucose works best but any thick syrup will do)

Flour, corn-starch, coco powder, gelatine or agar agar

Toothpaste, Vaseline, dish soap, toilet paper, cotton balls, glue
Wounds & Scars will be covered over two sessions.
Tutorial essentials:
Make-up (dull eyeshadow, brown/black eyeliner, foundation/concealer)

Small/medium brushes

Glue (a mix of PVA & glue stick works best), cotton balls/buds

Tweezers/toothpick/butterknife

Fake blood from Monday's session
Tutorial essentials:
Make-up (dull eyeshadow, brown/black eyeliner, foundation/concealer)

Small/medium brushes

Glue (a mix of PVA & glue stick works best), cotton balls/buds

Tweezers/toothpick/butterknife

Fake blood from Monday's session

Tissues