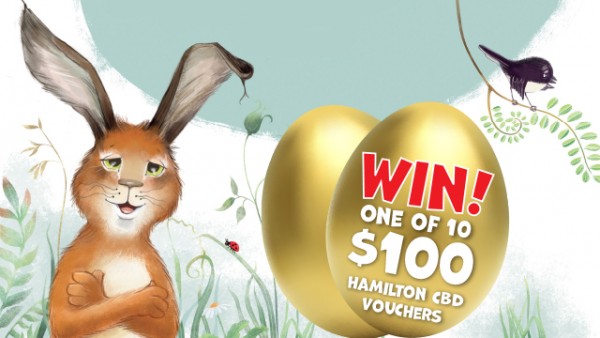 Hare is stuck! Along with his friends Tomtit and Fantail he has tried to locate his brilliant idea, but…. he can't remember what or where it was! Come and help Hare find his idea somewhere hidden in Hamilton Central!
Collect a map and take a stroll around the Easter StoryWalk, answer five questions on the entry form and you can be into win one of 10 $100 CBD vouchers.
Your map and entry form can be collected from:
Once you have completed your entry form you will need to return it to Centre Place Information Desk by 5pm Monday 18 April.
Winners will be announced on Friday 22 April.
Enchanted Entertainment characters The White Rabbit, Alice in Wonderland and an Easter Fairy will also be reading stories in Garden Place 10am – 11am Thursday 14 and Saturday 16 April, including the book Hare by New Zealand author Deborah Hinde - the book used for the StoryWalk! If it's raining, the story time will take place at Central Library on Thursday 14 April and cancelled on Saturday 16 April.
This free event is brought to you by Hamilton Central Business Association, CBD Events, Hamilton City Libraries/Hamilton City Council and Centre Place.
StoryWalk Winners
Congratulations to the following people who have won a $100 voucher!
Blake Shiels
Isabella Fairly-King
Emma Hayes
Nikita Greenfield
Devon Cammock
Anna Teesdale
Riley Mills
Benjamin Jovanovic
Teia Walmsley
Cherry Piper
And to Pleiades London, who won a bonus prize of a signed illustration of Hare!
The Easter Storywalk Promotion begins at 9.30am on Thursday 14 April 2022 and ends at 5pm on Monday 18 April 2022 (the Promotion Period).

The Promotion is offered by Hamilton City Libraries of 9 Garden Place, Hamilton New Zealand and Hamilton Central Business Association (the Promoters).

The Promotion is open to Waikato residents who choose to take part in the Easter Storywalk competition.

Employees of Hamilton City Council and Hamilton Central Business Association, and their immediate families are not eligible to participate at any time. "Immediate families" means the husband, wife, spouse, parent, siblings, and children (including step parent, sibling and children). The Promoters reserve the right to request proof of an entrant's eligibility in the event that there is a doubt over his/her eligibility for the Promotion.

Entrants are required to enter valid contact details on the entry form which will be used to notify the winner.

The prize draw will take place by Hamilton City Libraries on Friday 22nd April 2022. The first ten valid entries drawn will win a $100 CBD voucher of their choice.

Permission will be requested for photographs of prize winners to be used on The Promoters' social media. A Permission Form will be supplied on receipt of prize if permission is given.

The Promoters' decision on all matters is final and no correspondence will be entered into.

The Promoters may cancel, terminate, modify or suspend the Promotion or these Terms and Conditions at any time and for any reason before the end of the Promotion Period and shall not be liable to any entrant or prize winner for any loss or damage incurred as a result.

Except for liability that may not by law be excluded, the Promoters shall not be liable under or in connection with these Terms and Conditions, this Promotion and/or taking the prize for any cost, expense, loss or damage suffered by any entrant or prize winner, even if such cost, expense, loss or damage was reasonably foreseeable, and whether arising from breach of contract, tort, negligence, breach of statutory duty or otherwise.

Participation in this Promotion is deemed acceptance of these Terms and Conditions.

These Terms and Conditions are governed by New Zealand law and any dispute arising out of or in connection with them will be subject to the exclusive jurisdiction of the New Zealand courts.

Contact information will be used by the Promoters only for the purposes of contacting winning entrants. No personal information will be transferred outside the Promotion application.