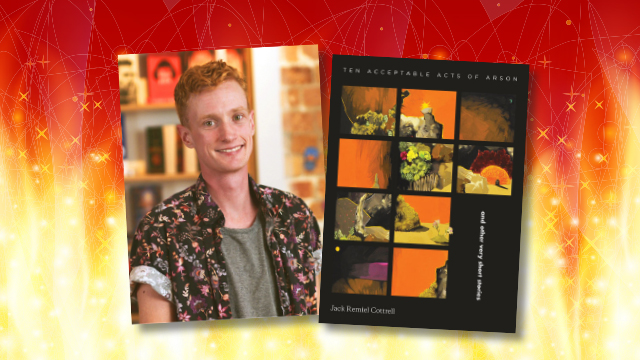 Auckland-based Jack Cottrell is an award-winning writer. His first collection of stories will be published this month. You're invited to hear how he became one of NZ's leading proponents of flash fiction, and discuss both his work and the genre as a whole.
We also have two signed copies of Jack's book, Ten Acceptable Acts of Arson and other very short stories, to give away on the night.
Please note this event has been postponed due to the current lockdown. Once a new date has been set, it will be listed here and registrations will re-open. For more information, please see our COVID-19 Update.
About Jack:
Jack Remiel Cottrell (Ngāti Rangi) grew up in Wellington and now lives in Auckland. His flash fiction collection was awarded the Wallace Prize for best manuscript in the University of Auckland Master of Creative Writing class of 2020. He has been published in numerous anthologies and online magazines, and his novella-in-flash Latter Day Saints was published in 2018 by Ad Hoc Press.
Jack's first full-length collection Ten Acceptable Acts of Arson and other very short stories (Canterbury University Press) features sport, friendship, love, health, family, climate change, artificial intelligence, desire, magic, Greek gods, ghosts, peanut butter, cyber pranks, racial prejudice, and creepy medical advances, his stories play with the allure of the past, the disturbances of our own times, and the dangerous idealism of our future technologies – each one in fewer than 300 words.