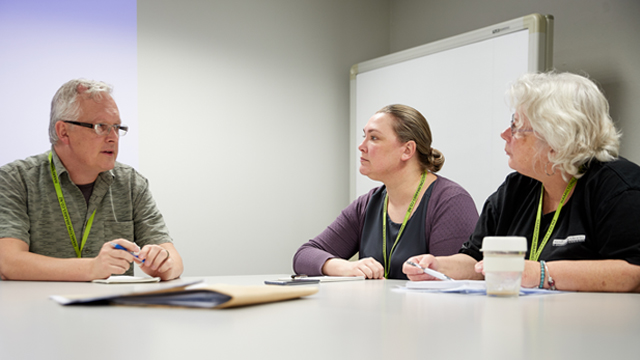 Is your group or organisation looking for somewhere to meet? Hamilton City Libraries would love to help. Check out our community room at St Andrews Library - this venue has seating for up to 30 people, heating and off-street parking. The charge is $18 for non-profit groups, or $60 for commercial groups.
For more details or to make a booking, contact the St Andrews Library.
Community groups using the room
Some of the groups that meet regularly in the room are:
Greater London Interest Group of New Zealand Society of Genealogists
Meet every 3 months (last Tuesday of the month) 9.00am - 3.00pm.
Contact Ken on 07 847 4272.


Scottish Interest Group
Meet second Tuesday of alternate months (March, May, July, etc.) starting March, 9.30am - 2.30pm.
Contact Antonia on 07 855 3859.


Caged Bird Club
Meet second Monday monthly at 7.30pm starting February.
Contact Clayton on 07 849 0324.


Craft Group
Meet every Wednesday 1.00pm - 4.00pm.
Contact Alison on 07 849 6693.


Poultry and Pigeon Club
Meet first Tuesday monthly 7.30pm.
Contact Fiona on 027 437 4104.


Al-Anon Family group
Meet every Tuesday 3.30pm - 4.30pm.
Contact Jane on 027 336 2070.


Al-Anon
Meet every Thursday 12.00pm - 1.00pm.
Contact Roseanne on 07 856 5618.


Card Group
Meet every Friday 12.30pm - 3.30pm.
Contact Alan on 07 849 2602.


U3A Book Club
Meet fourth Thursday of the month 1.30pm - 3.30pm.
Contact Anne on 021 232 4727.


Scots Book Club
Meet last Friday of the month, 10.00am - 12.00pm.
Contact Karen on 07 838 6847.