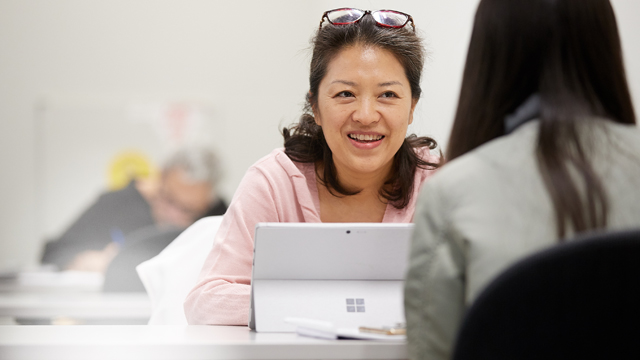 At Hamilton City Libraries we nurture and support curiosity and learning within our communities. Free online courses are one way to do this. Most of the links below are free, web-based and you won't have to sign up or enrol. If you would like further information on lifelong learning, please phone 07 838 6826.
Computer mentors
All our libraries offer free, 1-on-1 help writing your CV, setting up an email account or any other computer-related things you may want to know about. We have mentors who speak many different languages so if you know someone who doesn't have English as their first language and could use some computer help, please ask staff for available sessions.
Check our calendar for days and times.


Adult education classes and programmes
We have free adult education classes and programmes facilitated by the community, for the community. All classes and programmes are free to attend, no registration is required, and all are welcome. See the classes and events we have to offer here.
Book Clubs
Come and share your passion for reading with fellow book lovers. Talk with others about books you have enjoyed and get ideas for new books and authors you might like to read. Learn more about our clubs and what we're reading together here.
Writer's Den
If you share our passion for writing you are welcome to meet with us fortnightly, share your work, receive feedback and support on our writing journeys. Check the events calendar for session dates.
Help with your job searching
Work and Income have a great site to help you with your job search, and CV templates.
Workwise supports people who are facing personal or health challenges to find and keep a job. Their website has some helpful resources for job hunters.
Careers NZ is a good New Zealand resource useful for all things job related, including how to write your CV, how to market yourself and has a large list of current job vacancies.
Future You, created by Wintec, is a short questionnaire helping you find a range of job options based on what you'd like from a career.


GCF LearnFree
GCF LearnFree helps people learn the essential skills they need to live and work in the 21st century. From Microsoft Office and email to reading, maths, and more, GCFLearnFree.org offers more than 180 topics, including more than 2,000 lessons, 800+ videos, and 55+ interactives and games, completely free.


Excel help
Many people find Excel useful but it can be daunting. Excel is an important skill in many jobs. We have found a great website that can help, in an easy to follow format – whether you just want to know how to freeze panes or rows or something more in-depth you can find help here.


Adult literacy and ESOL
The BBC is also a good site for you to learn or improve your reading or writing for literacy. It's good for non-native English speakers also.
Listen to a six-minute recording in English and answer questions about what you have heard, and find written dictionary definitions.
This link is a good link for other learning resources for adults.

Community education courses at Fraser High School
Courses include defensive driving, how to weave a taaniko and contemporary Korowai cloak, Hathi yoga, gardening, sewing, beekeeping, woodwork and much more.
Learn Te Reo Maaori
Te Taura Whiri i te Reo Maaori website is a great place to get started, with materials for beginners through to advanced.


Learn New Zealand Sign Language online
Did you know New Zealand Sign Language is one of Aotearoa's three official languages? There are many resources for learning and practising your Sign online!
Teach yourself basic NZSL through the free and interactive Learn NZSL online portal.
Learn NZSL online using the New Zealand Sign Language Dictionary, courtesy of the Victoria University of Wellington's Deaf Studies Unit.
Victoria University of Wellington's Deaf Studies unit have also provided a list of online content to help you learn NZSL from home, including eBooks, videos, and free online courses.


Free university courses
Coursera is a social entrepreneurship company that partners with the top universities in the world to offer university courses online for anyone to take, for free. Arts, Sciences, English, Statistics and more, it's all here.