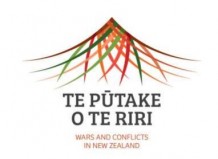 2020 marks 160 years since the outbreak of the Taranaki War in 1860. Since the arrival of Europeans to New Zealand there had been interracial conflict, and the introduction of European weaponry had revolutionised intertribal warfare. The signing of the Treaty of Waitangi in 1840 had different meanings for both Maaori and Paakehaa, and Maaori were increasingly reluctant to sell land to the rapidly increasing European population.
By 1860 there was increasing pressure on the recently formed New Zealand Government from the British Government back in England for the colony to pay its own way. 80% of the North Island was still in Maaori control, and many hapuu had begun cultivating horticulture and agriculture to supply the settlers. Paakehaa increasingly saw land that was unoccupied as 'waste land' and acquiring this land became a key policy for the Government.
The crowning of the first Maaori King, Pootatau Te Wherowhero in 1858 was seen by some settlers and politicians as a challenge to the British Crown.
Fighting escalated in Taranaki in 1860-61, a truce was agreed but the situation was not fully resolved. Hostilities commenced again in 1863, this time both in Taranaki and when Governor Grey invaded the Waikato from Auckland.
Fighting continued on and off around the country until 1872, although Te Rohe Potae (the King Country) was closed to Paakehaa until the mid 1880s.
There were further engagements in Taranaki, particularly at Parihaka in 1881. There was resistance to settlement at Hokianga in 1898 and part of Urewera remained closed the Paakehaa until 1916.
Almost 3000 people were killed in the conflicts from 1845-1872, the majority were Maaori. Some Maaori supported the Colonial troops so are recorded separately from the anti-government Maaori.
The information below is provided as a directory to guide you to resources held by Hamilton City Libraries as well as online. We encourage you to view a video or two, have a read of some of the resources online or in print and being your journey to learn more about what happened here before. By understanding past events, we can have greater understanding and empathy for the present and the future.
Kaupapa: Te Puutake o Te Riri seeks to uncover and shed light on that part of our history which has been hidden for too long and to encourage informed conversations about our shared past. (Te Puni Kokiri)