October 2022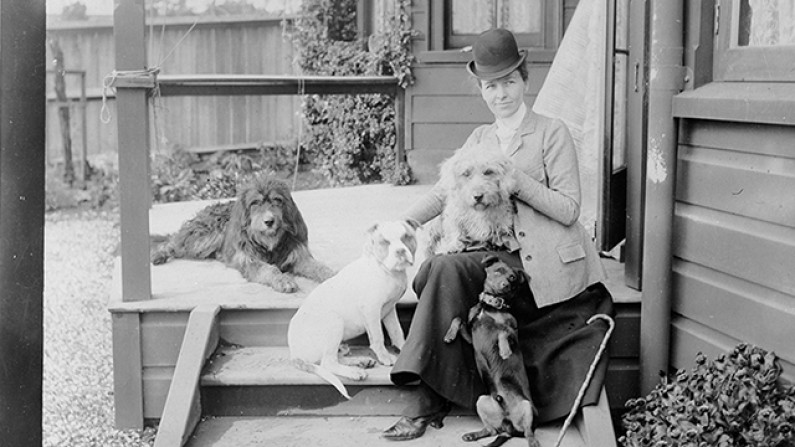 Woman and dogs on verandah - Hamilton depicts an unknown woman sitting alongside her four well-behaved pet dogs, each one looking directly at the camera. Documentation of our companionship with dogs was commonplace throughout history, with pet dogs featuring regularly in painted and photographic portraiture. Even dating back to the Renaissance period, painted portraits often depicted the sitter with their pet dog nestled on their lap or sitting obediently by their side. Dogs continued to be popular subjects in art throughout the decades and eventually, with the introduction of photography this trend continued. As everyday people began capturing their lives through a lens, dogs continued to feature in photographs, highlighting how our relationship with pets remains important to our identity.
Browsing the Hamilton Libraries Heritage Collections can provide great insight into the lives of past Hamiltonians, and in this case an intriguing snapshot into our relationship with dogs. Much like this woman and her four pups, you can find countless more photographs of people and their pets in our collections. Dogs appear in large family portraits, on family holidays at the beach, or laying at the feet of their owners. Working dogs are seen ready to help with farm work or as loyal companions in workplaces such as Frankton Junction railway station and Findlays Bakery Napier. In other photographs, dogs such as Nig and Tip are simply photographed alone, in a portrait taken by what we can assume is just a proud owner. This pride of owning a dog remains very relatable to today's society - especially with the introduction of social media. The rise of the popular hashtag #dogsofinstagram has trended worldwide as millions of owners continue to share adorable photos of their dogs online.
As we can see photographing our pets is not a new phenomenon, dogs have been photographed and documented as our most loyal companions throughout history. These photos help provide proof that while the people, fashion and architecture change over time – the dogs stay the same!
Explore a wide range of books about pets for all ages from our catalogue or explore images of pets from the past on our Heritage Collections Online.
Sarah, Archives Assistant - Central Library