March 2022
Thursday 30 September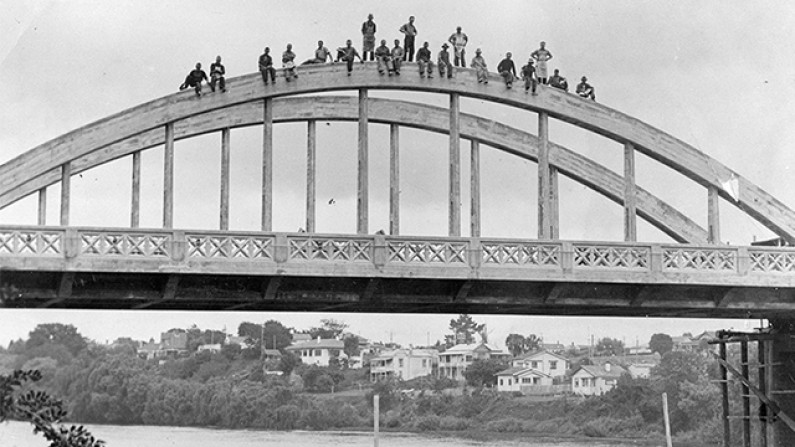 "I'm on top of the world!" Yelling it into the unforgiving wind atop a rugged mountain is the ultimate vision of freedom and achievement. The exaltation of kings and explorers alike, and perhaps a drunken 20-something at New Years, holding onto their youth with white knuckles and blissful avoidance. I imagine that's what it might have felt like to climb atop of a bridge you have just built. "We did it, guys. Take it all in." As the Fairfield Bridge construction workers admired their work from on high and watched ant sized people go about their lives down below, I wonder if a different kind of feeling began to creep in amongst the pride, tiredness, and accomplishment.
Have you ever recognised your house from atop a tall building or through a plane window and thought "Wow, everything is so… small"? Your family, your job, the new electric car you just bought, it can all be blocked from view with simply a cleverly placed thumb. All of your problems that seemed so big a moment ago can quickly shrink at the realisation that in the scheme of things, in this vast and beautiful world, we are all incomprehensibly tiny. Holding a grudge against the idiot who cut you off in traffic that morning suddenly seems petty and unproductive. Whether or not to add a feature wall in the master bedroom no longer feels worth fighting with your partner about. This is the power of perspective. Seeing your life from a new angle, or through someone else's lens has been known to inspire a bit of soul-searching, and even be a catalyst for serious change as the big questions start to bubble their way to the surface.
I like to think that the bridge construction crew are taking in the powerful Waikato river, the busy streets of downtown Hamilton and are thinking to themselves "If you spend months building a bridge with someone does that make you friends for life?" "If I can do this, then surely I can be a great father." "What does it mean to be truly happy?" "Should I have worn a harness when I climbed up this thing?" Sometimes feeling small is not a bad thing at all.
If you want to read about people whose lives have been forever altered by an unexpected change in perspective, look no further than these awesome books in our libraries catalogue:
The Midnight Library by Matt Haig
Have you ever thought about what your life would be like if you had done one thing differently? What if you had stayed in that job? Followed your dreams with abandon? Gone on the date with handsome Doctor? Join Nora in the Midnight Library as she gets the magical opportunity to "fix" her life mistakes and do things over.
In the middle of the night two strangers have a fateful meeting on the edge of an overpass. If you like unlikely friendships, courage in the face of heartbreak, and characters that will stay with you long after you finish reading, this book is for you.
Are you struggling with lack of motivation and need some inspiration to pick yourself up and sort your life out? Look no further than the amazing life story of Tara Westover. Follow her incredible journey from being an uneducated teenager in a survivalist cult in the mountains of Idaho, to an incredibly intelligent and successful best-selling author with a PhD from Cambridge University.
Jessa - Hillcrest Library
Fairfield Bridge
Designed by: Stanley Jones, Jones & Adams of Auckland.
Work commenced: 6 August 1934.
Opened: 26 April 1937 by Hon. R. Semple, Minister of Public Works.
Cost: £26,000 (£1.9 mill/$3.6mill today)
Length: 457 feet/ 139m
When the Fairfield Bridge project was proposed Hamilton Borough's population was approaching 16,000. The roads were becoming increasingly congested - there was only one bridge at that time. However the proposed bridge was controversial as many claimed it was too far out and would never be used. The construction became a local attraction with Hamiltonians enjoying the walk into the country to see it. By the 1950s the bridge was well inside the city boundaries as Hamilton continued to grow in size and population.
The concrete bridge was constructed by a local company, Roose Shipping Co Ltd. Work commenced in August 1934 and soon after they began drilling they found an underground forest that no one had been aware of. Logs were so hard they had nearly turned to coal causing an unforeseen delay in completion of the bridge. The structure consists of three bowstring trusses and two land spans all in reinforced concrete. The bridge is still in use but in 1991 repairs were done due to concrete cancer at a cost of $1.1 million.