January 2022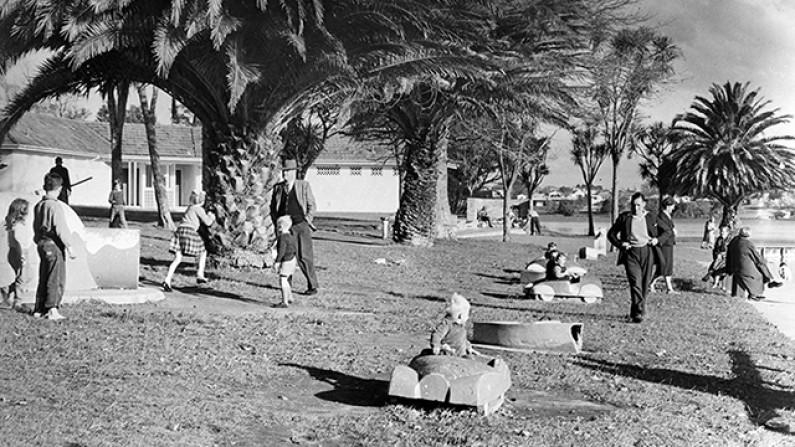 Children play at the Hamilton Lake Domain playground, supervised by adults nearby. The area has several palm trees and the restrooms can be seen in the background. These were built in 1954 to replace the bathing huts along the eastern shore.
"No other play area has more appeal or lives as long in Hamiltonians' memory than the Lake Domain around Lake Rotoroa. As children they might even have played in the old concrete cars and igloo pictured in this photograph and that used to feature near its eastern edge. Earlier iterations both now and then, included swimming and boating facilities near the water's edge many of which are still extant. These days an enlivened tree-top-like play frame, specially designed from "Future Landscapes" creates a hallmark tube slide and adventurous climbing frame. It crouches, wide-eyed and ready to play with everybody who arrives.
The draw appeal of Lake Rotoroa had been an attribute long before the city of Hamilton even came into existence. In pre-European times the lake provided food and recreation for generations of Maori who lived and played on its edges, swimming and fishing in its shallows. One can still stand and imagine them laughing, boating and racing in its waters. As the city grew, Hamiltonians continued to enjoy the lake and added parks and more boating features to it. Its braided lake shores have seen huge changes come and go, but it remains a placid and peaceful place for many just needing a little rest and relaxation.
Both then and now, in the sun either setting or rising, children flock to its shores to laugh and play. Their cheerful games float across the lake water, swelling with the waves and wind to wash, past and future. They swing with the happy ghosts scattered around the lake shores and swish swiftly around its path, reminding us of whispered memories past.
A book to take out and devour……"Hamilton Lake : city playground" by Jeff Taylor. A must-read offered to you from our indominable library collections!"
Explore more images of the Hamilton Lake Domain on our Heritage Collections Online.
Belinda, Dinsdale Library