G. E. Clark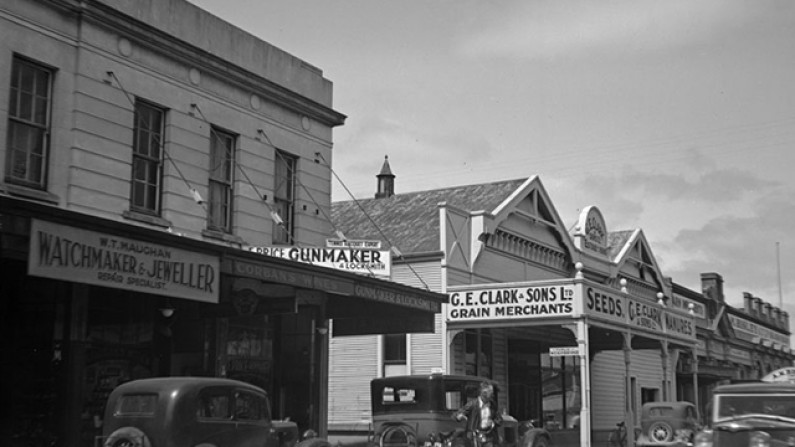 Mr George Edward Clark was born in Cambridgeshire, England in 1840 and came to New Zealand in 1864. After a short time in Auckland, where he met his wife Miss Elizabeth Victoria Garlick, he moved to Cambridge where he settled and began farming. Around 1879 Clark established himself as a seed and grain merchant. Soon after he went into partnership with the Auckland based, Joseph Gane. Advertisements from the time show the pair were also land and commission agents. Their business was bought by the North New Zealand Farmers' Association in 1885. Clark carried on as a sole agent in the same line of work until late 1903 when son Harry joined his father in business. So, contrary to what was and is stated on Clark's buildings, i.e. Est. 1880, it wasn't until this time that the firm of George E. Clark & Sons was established.
The Ward Street, Hamilton branch seems to have been established mid-1908, based on the addition of Hamilton to the business' newspaper advertisements.
The image above is dated 1939 and shows the earlier of the buildings on the corner of Ward Street and Ward Lane. The round pediment at the top of the building's facade reads "G.E. Clark & Sons Ltd Established 1880". It is likely this building was demolished shortly after this photograph was taken (for the Hamilton Borough Council) as the building that replaced it has a slight art moderne influence, a style still popular in the 1940s.
According to the 1953 edition of The New Zealand Business Who's Who G.E. Clark & Sons were wholesale agents for Reid Rubber Tyres, President tractors and Atco motor mowers & small farm machinery. By then they also had branches in Waitoa, Wataroa and Tauranga. George Clark died in 1935.
References:
"Pioneer's death : Mr G.E. Clark passes : Cambridge's "Grand Old Man" : Lifetime in Waikato" Waikato Times 9 September 1935, p. 6
The New Zealand Business Who's Who (1953 ed.) Wellington: L.T. Watkins Ltd.
First Hamilton listing in The Wise's New Zealand Post Office Directory (1910) Auckland, N.Z. : H. Wise & Co.
https://paperspast.natlib.govt.nz/newspapers/WAIKIN19061016.2.26.1?query=clark%20gane
https://paperspast.natlib.govt.nz/newspapers/WT18801211.2.10?query=clark%20gane