December 2022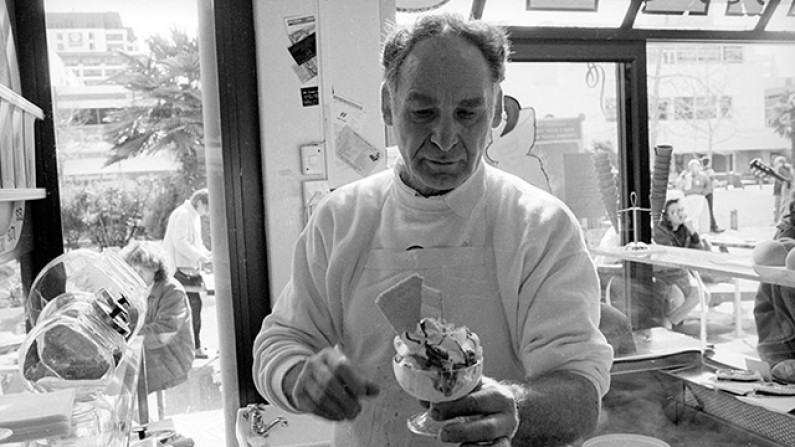 Giuseppe (Joe) Di Maio
1933 - 2019
Many people in Hamilton will have happy memories of the pizza and ice cream shop in Garden Place. "Gelato Arlecchino". It was there between 1981 and 2003. It sold a variety of delicious Italian pizza and Italian style ice cream and sorbet, but It was the personality behind the counter that brought the shop to life – Giuseppe Di Maio better known as Joe.
Joe was a child immigrant escaping the poverty of a post-war torn Italy. With little work and food in his home town of Sorrento his sister and mother arranged for him to be with his uncles who had already emigrated to New Zealand.
He was only 19 when he arrived in Wellington in February 1951. He knew little English and had flown via Australia arriving in an amphibian plane from Sydney. He was met by one of his uncles on Wellington harbour and taken to live in Nelson.
He used his woodwork skills learnt from his father, a cabinetmaker, to work on a dam being built in the Cobb Valley. He also learnt dancing and became a professional ballroom dancer.
In 1953 he applied for a carpenter's job in Murupara and was successful. He lived here for 25 years, however, as Murupara had nowhere to get haircuts, he decided to change his career and retrained as a hairdresser in Wellington. He opened a successful unisex hair salon in Murupara. Joe worked hard often working till midnight and had his fingers in many pies (or pizzas) he had an auction house, ran a dancing school, drapery, fashion shop, taxi and ran a café!
He married in 1965 and he and his wife were involved in the community and social life of Murupara including St. Johns Ambulance and the Fire Brigade as well as local politics. He was a founding member of the Rotary Club and a borough Councillor. They had five children. In 1971 they visited Italy for six months to see his mother and other family members. They then lived in Peterborough in England for a couple of years before returning to New Zealand in 1973. They decided to buy a block of land at Tamahere to further enjoy the New Zealand lifestyle.
In 1981 that Joe fulfilled his dream of opening a Pizzeria and Gelateria. Situated at the corner of the DIC department store entrance in Garden Place it was an ideal spot and attracted lunch time trade, tourists, shoppers and children. It was regarded as one of the first places in Hamilton to have 'al-fresco' dining as well as a place to get really good Italian coffee. The gelateria served soft drinks including milk shakes and frappes, pastries and some fruit as well as a variety of pizza and Italian Harlequin Ice Cream. Joe made 54 different flavours!
The DIC became the Arthur Barnett Department store in 1988 but closed in 1992, becoming Central Library. While the transformation of the building took place the Pizzeria and Gelateria were closed temporarily, reopening in March 1993. Regular lunch time users of the library will recall the delightful aroma of pizza wafting down the entrance ramp.
The pizza and ice cream remained a feature of Garden Place until 2003 when the lease expired.
Joe continued his community work by becoming a Hamilton City Councillor in October 2004. In 2007 he initiated an Italian migrant exhibition at the Waikato Museum after being part of the planning process for a larger exhibition at Te Papa in Wellington called "Qui tutto bene". His old golden Italian coffee machine from Gelato Arlecchino was centrepiece of the Hamilton exhibition. He is also remembered for introducing one of the largest Christmas trees in New Zealand to Garden Place. With help from Councillors Roger Hennebry, Gordon Chesterman and the business community, the tree became a reality and was lit up for the first time on 7th December 2008. It has remained one of Hamilton's most important and spectacular yearly Christmas attractions.
Joe stood down from Council in 2010 to concentrate on his own projects, family and health, he passed away in 2019 – he will always be remembered as a friendly community man who brought a taste of Italy to New Zealand.
Sources and further reading:
"Joe's dream fulfilled" (Food & Wine) Waikato Times 4th November 1986 p5.
"Celebrating Italy" (Qui tutto bene – The Italians in New Zealand) Waikato Times 31st January 2009 located on stuff.co.nz Retrieved 28/11/2018
http://www.stuff.co.nz/waikato-times/life-style/tempo/244637/Celebrating-Italy
"Public help sought for proposed Italian migrant exhibition" Hamilton City Council website. 19th June 2007
https://www.hamilton.govt.nz/our-council/news/Pages/default.aspx?newsItem=2120
"Hamilton Christmas tree prepares to light up" Hamilton City Council Press release 3rd December 2008.
http://www.scoop.co.nz/stories/AK0812/S00070.htm
"Let there be lights" Kirstie Smith / Waikato Times 31st January 2009
http://www.stuff.co.nz/waikato-times/news/539224/Let-there-be-lights
"Retiring councillor leaves mark on CBD" Nikki Preston / Waikato Times 6th July 2010
http://www.stuff.co.nz/waikato-times/news/3887807/Retiring-councillor-leaves-mark-on-CBD
"Iconic city espresso machine makes a comeback" Elton Smallman / Waikato Times 26th July 2015
https://www.stuff.co.nz/waikato-times/69712581/iconic-city-espresso-machine-makes-a-comeback
Compiled January 2019 by Barry Friend