August 2022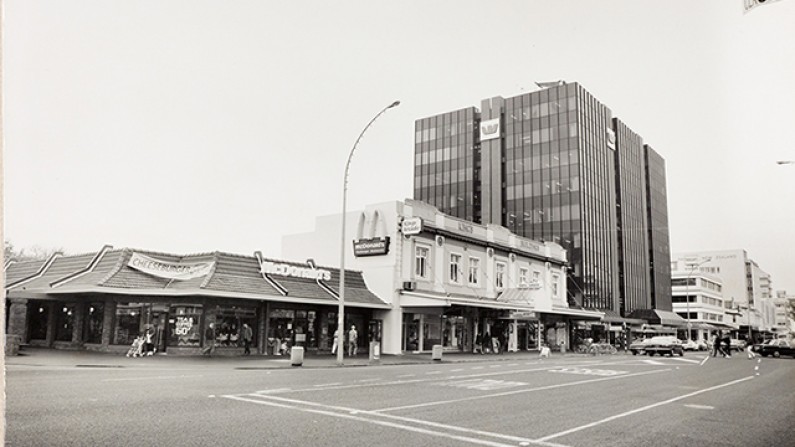 This iconic McDonalds restaurant on Victoria Street was certainly well loved by Hamiltonians; many would remember family meals, first jobs and birthday parties celebrated within its doors. Unfortunately, we do not have a specific date for this photograph, but we know the first New Zealand McDonalds restaurant opened in Porirua in 1976, so this photo was taken after this date and once the restaurants were established around the country.
The photographer was Bill Lindberg, an artist well-known for his documentation of Hamilton and its people. Originally from Denmark, Lindberg travelled to New Zealand in 1950, settling in Christchurch before relocating to Hamilton in 1957. Lindberg set up a studio on his arrival and began offering portraiture and wedding photography services to the local community. Lindberg Photography Ltd then began to specialise in industrial, commercial, and aerial photographs within the Waikato region.
The Hamilton Libraries Heritage Collections have a wide range of photographs by Lindberg. In addition to McDonalds, Lindberg also photographed other iconic landmarks along Victoria Street including; Westpac, Pascoes and Deka. Lindbergs photographs provide a great record of the changing architecture of the city - he captured both the rise and fall of different buildings such as the construction of the Bank of New Zealand and the dramatic demolition of the National Bank Building. Another popular subject for Lindberg was the everchanging landscape of Garden Place, capturing varying versions of its carpark, gardens and people over the years.
Some of the most striking photographs in our collection have to be Lindberg's aerial photographs. This series captures a growing Hamilton from the air - some focus on the expanding CBD while others feature glimpses of the Waikato River, Mount Pirongia and Hamilton Lake. To view these photographs by Lindberg, and to see how our city has changed over time continue to explore our online collections.
Life through the lens https://www.stuff.co.nz/waikato-times/life-style/52060/Life-through-the-lens
Long serving members of NZIPP – Bill Lindberg https://nzipp.org.nz/long-serving-members-bill-lindberg/
Maccas story: where we've come from https://mcdonalds.co.nz/about-maccas/maccas-story
Sarah - Archives Assistant, Central Library