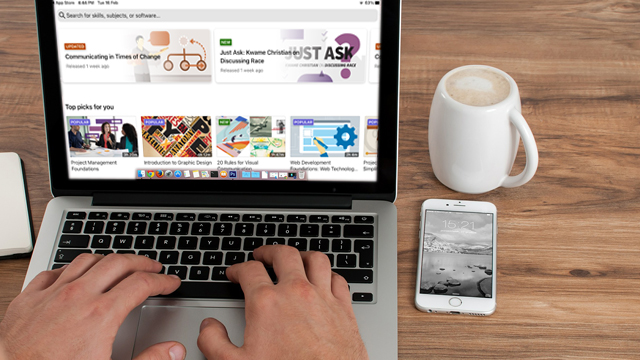 LinkedIn Learning (formerly Lynda.com) offers over 16,000 video courses on subjects relating to business, creativity, and technology.
Learn in your own language with courses available in English, French, German, Japanese, Spanish, Mandarin, and Portuguese.

Learn at your own pace, with goal and time tracking functions.

New courses added weekly.

Download a certificate of completion after finishing a course.
Access LinkedIn Learning on your desktop or laptop anywhere, anytime via your web browser.
Log in using your library card number and PIN, then follow the prompts to finish setting up your account.
Note: if your library card number has changed, you should continue to use the library card number you first used to log in to LinkedIn Learning (or its predecessor, Lynda.com). If you have forgotten this, please contact us as we do keep record of your previous card numbers.
LinkedIn is working towards ensuring the LinkedIn Learning mobile apps for iOS and Android will also work for Library patrons.
In the meantime, you will be able to explore all of the content through your mobile web browser, using the link above.
This year, Lynda.com upgraded to LinkedIn Learning for Library. As at 16 February 2021, all individual learning activity and history from Lynda.com is being transferred to LinkedIn Learning.
With LinkedIn Learning, you will be able to:
Receive relevant recommendations: Have access to content trending in your fields of interest.

Ask questions: LinkedIn Learning allows you to ask questions and receive responses from the instructor and other learners.

Continue where you left off: You will have access to your Lynda.com learning history and certifications of completion after the upgrade.

Learn in your own language: As well as the original Lynda.com content in English, there are now courses available in French, German, Japanese, Spanish, Mandarin, and Portuguese.
To access LinkedIn Learning for Library, you will still require your library card and PIN/password. A LinkedIn profile is not required.
See answers to Frequently Asked Questions about the upgrade from Lynda.com to LinkedIn Learning.