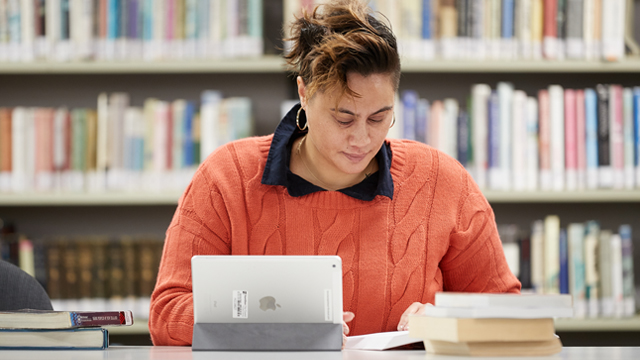 We maintain a lending collection of over 1,000 titles on Maaori topics. The Heritage collection (non-lending) has a further 4,700+ titles on topics relating to Maaori. Many of these are very old, some going back to the 19th century. These include books by Elsdon Best, Sir George Grey, John White as well as more recent works by Ranginui Walker, Claudia Orange and James Belich. Along with the NZ Collection at the University of Waikato, it is probably the most significant collection of documentary Maaori history in the region.
Our books on Maaori topics in both the Lending and Ngaa Koorero Tuku Iho - Heritage and Archives collections have distinctive labels for ease of identification. We use Maaori subject headings on our catalogue, making it easier to identify topics and books.


Highlights in the Maaori collection
The Libraries hold a copy of the Raupatu Document Bank – a collection of over 140 volumes, which was compiled from various government publications to enable claims to the Waitangi Tribunal to be researched more easily. These books contain a great deal of primary source material for Maaori history. The libraries also subscribe to an electronic index for the Maaori Land Court Minute Books. The University of Waikato hold copies of the books themselves.

Our genealogy collection includes many items for whakapapa research. We have also created a kit to help people undertaking whakapapa research.

The Ngaa Koorero Tuku Iho - Heritage and Archives team have compiled information kits on various Maaori history topics and personages, particularly of the local area and maintain records on topics of interest to Hamilton's history, including Maaori.

Our microforms collection includes Maaori electoral rolls, registers of Maaori Births, Deaths and Marriages (useful for whakapapa research) and copies of Maaori newspapers.

We actively collect ephemera (programmes, advertising, etc.) and school jubilee documents, some of which record Maaori history.

Our early map collection records early Maaori sites and place names.

We act as the archive for the Hamilton City Council and hold many council reports documenting Maaori archaeological sites.

We hold the Waikato Times back to 1872. Many of the early issues, in particular, contain articles documenting Maaori history.

Our photo collection holds a small number of photos of Maaori, and some of the Waikato campaign.

Our archives collection holds the Elkington Papers, a collection of whakapapa, and the papers of William Searancke, who was prominent in Maaori Affairs in the Waikato and was the grandfather of Te Puea.