Top Teen Titles of 2021: Part Two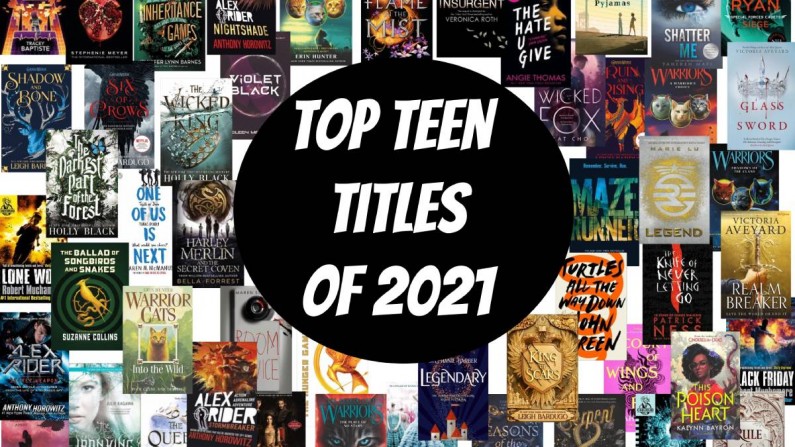 How many of these top teen titles have you read? You can place a free hold by clicking on any title below. Don't forget to check out Part One of this list!
Most Popular Authors
Leigh Bardugo
Erin Hunter
Holly Black
Anthony Horowitz
Suzanne Collins
Victoria Aveyard
Veronica Roth
Top Titles
by Tahereh Mafi

Ostracized or incarcerated her whole life, seventeen-year-old Juliette is freed on the condition that she use her horrific abilities in support of The Reestablishment, a post-apocalyptic dictatorship, but Adam, the only person ever to show her affection, offers hope of a better future.

by Veronica Roth

Turning her back on her family, Tris ventures out, alone, determined to find out where she truly belongs. Shocked by the brutality of her new life, Tris can trust no one. And yet she is drawn to a boy who seems to both threaten and protect her. The hardest choices may yet lie ahead…

by Chris Ryan

A top-secret government programme needs a crack team of undercover military operators. They must have awesome levels of determination, endurance and fitness. They must be able to think on their feet. The recruits undergo the most rigorous and testing selection process the modern military can devise. And in order to operate in circumstances where adult forces would be compromised, the recruits must be under sixteen. Only a few are tough enough and smart enough to make it... And once out in the field, they will require all their skills just to stay alive. Which is what happens when Max Silver, Abby Asher, Lukas Channing and Sami Hakim are sent into an armed siege in an inner-city school.

by Victoria Aveyard

Mare Barrow's blood is red--the colour of common folk--but her Silver ability, the power to control lightning, has turned her into a weapon that the royal court tries to control. The crown calls her an impossibility, a fake, but as she makes her escape from Maven, the prince--the friend--who betrayed her, Mare uncovers something startling--she is not the only one of her kind. Pursued by Maven, now a vindictive king, Mare sets out to find and recruit other Red-and-Silver fighters to join in the struggle against her oppressors. But Mare finds herself on a deadly path, at risk of becoming exactly the kind of monster she is trying to defeat. Will she shatter under the weight of the lives that are the cost of rebellion? Or have treachery and betrayal hardened her forever?

by Victoria Aveyard

A strange darkness is growing in the Ward. Even Corayne an-Amarat can feel it, tucked away in her small town at the edge of the sea. Fate knocks on her door, in the form of a mythical immortal and a lethal assassin, who tell Corayne that she is the last of an ancient lineage - with the power to save the world from destruction. Because a man who would burn kingdoms to the ground is raising an army unlike any seen before, bent on uprooting the foundations of the world. With poison in his heart and a stolen sword in his hand, he'll break the realm itself to claim it. And only Corayne can stop him. Alongside an unlikely group of reluctant allies, Corayne finds herself on a desperate journey to complete an impossible task, with untold magic singing in her blood and the fate of the world on her shoulders.

by Leigh Bardugo

The Demon King: As Fjerda's massive army prepares to invade, Nikolai Lantsov will summon every bit of his ingenuity and charm - and even the monster within - to win this fight. But a dark threat looms that cannot be defeated by a young king's gift for the impossible. The Stormwitch: Zoya Nazyalensky has lost too much to war. She saw her mentor die and her worst enemy resurrected, and she refuses to bury another friend. Now duty demands she embrace her powers to become the weapon her country needs. No matter the cost. The Queen of Mourning: Deep undercover, Nina Zenik risks discovery and death as she wages war on Fjerda from inside its capital. But her desire for revenge may cost her country its chance at freedom and Nina the chance to heal her grieving heart. King. General. Spy. Together they must find a way to forge a future in the darkness. Or watch a nation fall.

by Holly Black

After being pronounced Queen of Faerie and then abruptly exiled by the Wicked King Cardan, Jude finds herself unmoored, the queen of nothing. She spends her time with Vivi and Oak, watches her fair share of reality television, and does the odd job or two, including trying to convince a cannibalistic faerie from hunting her own in the mortal world. When her twin sister Taryn shows up asking of a favor, Jude jumps at the chance to return to the Faerie world, even if it means facing Cardan, who she loves despite his betrayal. When a dark curse is unveiled, Jude must become the first mortal Queen of Faerie and uncover how to break the curse, or risk upsetting the balance of the whole Faerie world.

by Holly Black

As seneschal to High King Cardan, Jude must fight to keep control of the Faerie throne while her younger brother, Oak, enjoys the childhood she never knew.

by Kalynn Bayron

When Briseis's aunt dies and wills her a dilapidated estate in rural New York, Bri and her parents leave Brooklyn behind for the summer. Hopefully there, surrounded by plants and flowers, Bri will finally learn to control her gift: the ability to grow plants from tiny seeds to rich blooms with a single touch. Their new home comes with a specific set of instructions, an old-school apothecary, and a walled garden filled with the deadliest botanicals in the world that can only be entered by those who share Bri's unique family lineage. Then strangers begin to arrive on their doorstep, asking for tinctures and elixirs. One of the visitors, Marie, is keeping dark secrets about the history of the estate and the surrounding community.

by Lily Blake

As Mary, Queen of Scots, and the rest of the French court cower in the palace from the plague, Nostradamus receives a vision that foresees Mary's death, leaving the ruler to wonder how long she will reign.

by Kiera Cass

Sixteen-year-old America Singer is living in the caste-divided nation of Illea, which formed after the war that destroyed the United States. America is chosen to compete in the Selection -- a contest to see which girl can win the heart of Illea's prince--but all she really wants is a chance for a future with her secret love, Aspen, who is a caste below her.

by Elle Cosimano

One cold, crisp night, Jack Sommers was faced with a choice - live forever according to the ancient, magical rules of Gaia, or die. Jack chose to live, and in exchange, he became a Winter. Like the other Seasons, each year Jack must hunt and kill the one before him. Gaia's rules are pretty straightforward. Winter kills Autumn. Autumn kills Summer. Summer kills Spring. And Spring kills Winter. Which means that Jack kills Amber. Amber kills Julio. Julio kills Fleur. And Fleur kills Jack. They die. They train. They hunt. But when Jack and Fleur - Winter and Spring - fall for each other against all odds, the true brutality of their eternal lives becomes all to personal and all too painful. And Fleur is on the brink of being Purged, forever. Unless they can come up with a plan to stop the cycle. When the four Seasons unite, risking immortality for a chance at love and to reclaim their free will, their cross-country escape brings them to a place where they must defend each other against a creator who seeks to destroy them.

by Bella Forrest

Being an empath has its advantages. Harley Merlin can sense people's emotions, among other things. It's how she snagged her first job pinpointing cheaters at a casino. But she has no clue where she got these freakish powers because she spent her childhood jumping from home to home in the foster system, and her father left her with nothing more than a cryptic note. Then she crosses paths with a terrifyingly real monster. Which is when a mysterious and annoyingly arrogant young warlock named Wade Crowley steps in, introducing her to a hidden world of magicals and covens riddled with secrets--as well as clues about her murky past. Whether she likes it or not, this new world is where she belongs. But after a disturbing twist of events, Harley quickly realizes her past is darker than she could ever have imagined. And someone in the coven is out for her blood. With the help of Wade and her new friends, she must figure out who the traitor is and why they're targeting her before the human and magical worlds dangerously collide.

by John Green

Sixteen-year-old Aza never intended to pursue the mystery of fugitive billionaire Russell Pickett, but there's a hundred-thousand-dollar reward at stake and her best and most fearless friend, Daisy, is eager to investigate. So together, they navigate the short distance and broad divides that separate them from Russell Pickett's son, Davis. Aza is trying. She is trying to be a good daughter, a good friend, a good student, and maybe even a good detective, while also living within the ever-tightening spiral of her own thoughts. In his long-awaited return, John Green, the acclaimed, award-winning author of Looking for Alaska and The Fault in Our Stars, shares Aza's story with shattering, unflinching clarity in this brilliant novel of love, resilience, and the power of lifelong friendship.

by Stephanie Garber

After being swept up in the magical world of Caraval, Donatella Dragna has finally escaped her father and saved her sister Scarlett from a disastrous arranged marriage. The girls should be celebrating, but Tella isn't yet free. She made a desperate bargain with a mysterious criminal, and what Tella owes him no one has ever been able to deliver: Caraval Master Legend's true name. The only chance of uncovering Legend's identity is to win Caraval, so Tella throws herself into the competition once more. Caraval has always demanded bravery, cunning, and sacrifice, but now the game is asking for more. If Tella can't fulfill her bargain and deliver Legend's name, she'll lose everything - maybe even her life. But if she wins, Legend and Caraval will be destroyed forever. The games have only just begun.

by Kat Cho

Gu Miyoung is a gumiho, a nine-tailed fox who must devour the energy of men in order to survive. The modern city of Seoul is the perfect place to hide and hunt. After feeding one full moon, Miyoung crosses paths with Jihoon, a human boy, being attacked by a goblin deep in the forest. She violates the rules of survival to rescue the boy, losing her fox bead-- her gumiho soul-- in the process. Jihoon saw her nine tails, but he's drawn to her anyway. Their a tenuous friendship blossoms into something more... until a young shaman tries to reunite Miyoung with her bead. Now Miyoung must choose between her immortal life-- and Jihoon's.

by Maren Stoffels

Four friends celebrate a birthday in a luxury hotel. But what starts as a fun weekend quickly turns into an outright nightmare. They receive messages at the door of their room, revealing more and more about what exactly happened a year ago. What the messenger wants is clear: revenge

by Leigh Bardugo

The much-anticipated first book in a brand-new duology. When the dark magical force within him challenges his effort to forge new alliances and build a defense against a new threat, Nikolai Lantsov, the young king of Ravka, embarks on a journey to his country's most magical places to vanquish it.

by Renée Ardieh

The daughter of a prominent samurai, Mariko has long known her place--she may be an accomplished alchemist, whose cunning rivals that of her brother Kenshin, but because she is not a boy, her future has always been out of her hands. At just seventeen years old, Mariko is promised to Minamoto Raiden, the son of the emperor's favorite consort--a political marriage that will elevate her family's standing. But en route to the imperial city of Inako, Mariko narrowly escapes a bloody ambush by a dangerous gang of bandits known as the Black Clan, who she learns has been hired to kill her before she reaches the palace. Dressed as a peasant boy, Mariko sets out to infiltrate the Black Clan and track down those responsible for the target on her back. Once she's within their ranks, though, Mariko finds for the first time she's appreciated for her intellect and abilities. She even finds herself falling in love--a love that will force her to question everything she's ever known about her family, her purpose, and her deepest desires

by Anthony Horowitz

When a secret agent is ruthlessly killed in Brazil, Alex Rider is sent to infiltrate a deadly organization known only as Nightshade. But as he gets closer to the truth, MI6 is suddenly shut down and the fate of an entire city now rests in Alex's hands.

by Erin Hunter

Three untold stories about three cats of the warrior Clans include a ShadowClan leader's path to redemption, a ThunderClan cat forced to choose between her past and future, and a young warrior's choice to defy her leader for the good of all five Clans.

by Erin Hunter

The imposter walking in Bramblestar's pawsteps retreats to the Dark Forest, where the other Clans must follow if they hope to restore their connection with their ancestors in StarClan

by Anthony Horowitz

After the death of the uncle who had been his guardian, fourteen-year-old Alex Rider is coerced to continue his uncle's dangerous work for Britain's intelligence agency, MI6.

by Erin Hunter

As prophesized, a young house cat becomes an apprentice warrior in a clan of wild cats, where he faces many dangers and treachery both within and outside of his new clan.

by Veronica Roth

As war surges in the factions of dystopian Chicago around her, sixteen-year-old Divergent Tris Prior must continue trying to save those she loves--and herself--while grappling with haunting questions of grief and forgiveness, identity and loyalty, politics and love.