Top Teen Titles of 2021: Part One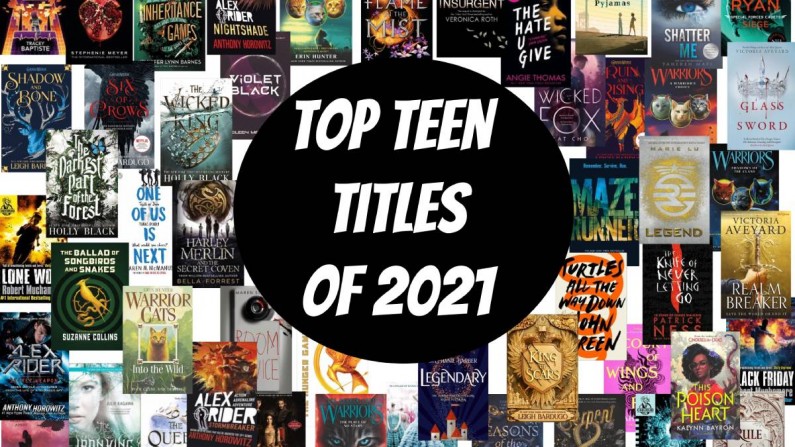 How many of these top teen titles have you read? You can place a free hold by clicking on any title below. Check back next week for part two of this list!
Most Popular Authors
Leigh Bardugo
Erin Hunter
Holly Black
Anthony Horowitz
Suzanne Collins
Victoria Aveyard
Veronica Roth
Top Titles
by Karen M. McManus

Welcome back to Bayview High... It's been a year since the events of One Of Us Is Lying. But nothing has settled for the residents of Bayview. Not now someone has started playing a sinister game of Truth or Dare. Choose truth? You must reveal your darkest secret. Choose dare? Well, that could be even more dangerous. Even deadly. When the game takes an even darker turn, suddenly no one at Bayview High knows who to trust. But they need to find out who is behind the game, before it's too late.

by Jennifer Barnes

When a Connecticut teenager inherits vast wealth and an eccentric estate from the richest man in Texas, she must also live with his surviving family and solve a series of puzzles to discover how she earned her inheritance.

by Leigh Bardugo

The Shadow Fold, a swathe of impenetrable darkness, crawling with monsters that feast on human flesh, is slowly destroying the once-great nation of Ravka. Alina, a pale, lonely orphan, discovers a unique power that thrusts her into the lavish world of the kingdom's magical elite - the Grisha. Could she be the key to unravelling the dark fabric of the Shadow Fold and setting Ravka free? The Darkling, a creature of seductive charm and terrifying power, leader of the Grisha. If Alina is to fulfil her destiny, she must discover how to unlock her gift and face up to her dangerous attraction to him. But what of Mal, Alina's childhood best friend? As Alina contemplates her dazzling new future, why can't she ever quite forget him?

by Erin Hunter

In three novellas from the world of the warrior cat Clans, SkyClan warrior Pebbleshine is separated from her Clan, a young rogue is forced to strike out on his own, and Mothwing finds a unique path and relationship to StarClan as WindClan's medicine cat.

by Robert Muchamore

Fay has spent eighteen months locked up in a Secure Training Centre. Drug deals and rip-offs are the only things this teenager knows. Now she's back on the street, looking to settle old scores. CHERUB agents Ryan and Ning need Fay's knowledge to unearth a major drug importer. They're trained professionals with one essential advantage: even experienced criminals never suspect that children are spying on them. But Fay's made a lot of enemies and she's running out of time...For official purposes, these children do not exist.

by Stephanie Meyer

When Edward Cullen and Bella Swan met in TWILIGHT, an iconic love story was born. But until now, fans have heard only Bella's side of the story. At last, readers can experience Edward's version in the long-awaited companion novel, MIDNIGHT SUN. This unforgettable tale as told through Edward's eyes takes on a new and decidedly dark twist. Meeting Bella is both the most unnerving and intriguing event he has experienced in all his years as a vampire. As we learn more fascinating details about Edward's past and the complexity of his inner thoughts, we understand why this is the defining struggle of his life. How can he justify following his heart if it means leading Bella into danger? In MIDNIGHT SUN, Stephenie Meyer transports us back to a world that has captivated millions of readers and brings us an epic novel about the profound pleasures and devastating consequences of immortal love.

by Robert Muchamore

Ryan is about to board a plane, knowing that the next twenty-four hours will change everything. His mission is to stop the biggest terrorist attack America's ever seen. Ryan works for CHERUB, a secret organisation with one key advantage: even a trained terrorist won't suspect that a teenager is spying on them.

by Anthony Horowitz

Danger is never far away from Alex Rider. In this collection of adrenaline-fuelled adventures, the teen spy infiltrates a terrorist hideout, gets caught up in a high-speed chase and faces the world's most deadly criminals. These explosive missions will push Alex to the limit. Seven secret adventures. One teenage super spy. This book contains a combination of new and previously published individual stories.

by Angie Thomas

After witnessing her friend's death at the hands of a police officer, Starr Carter's life is complicated when the police and a local drug lord try to intimidate her in an effort to learn what happened the night Kahlil died.

by Suzanne Collins

Every year, twelve boys and twelve girls are chosen to take part in the Hunger Games. Watched by the entire nation, this is action-packed reality TV at its most exciting - and most dangerous. Katniss Everdeen has grown up struggling to save the people close to her. Now she faces the biggest challenge of all - the fight for her life. Winning will make you famous. Losing means certain death.

by Leigh Bardugo

The Grisha trilogy introduced readers to the irresistible fantasy world of the Grisha - and now Leigh Bardugo brings us a new sweeping epic. Ketterdam: a bustling hub of international trade where anything can be had for the right price - and no one knows that better than criminal prodigy, Kaz Brekker. Kaz is offered a chance at a deadly heist that could make him rich beyond his wildest dreams. But he can't pull it off alone. A convict with a thirst for revenge. A sharpshooter who can't walk away from a wager. A runaway with a privileged past. A spy known as the Wraith. A Heartrender using her magic to survive the slums. A thief with a gift for unlikely escapes. Six dangerous outcasts. One impossible heist. Kaz's crew is the only thing that might stand between the world and destruction - if they don't kill each other first.

by Holly Black

In the town of Fairfold, where humans and the Folk exist side by side, a boy with horns on his head and ears as pointed as knives awakes after generations of sleep in a glass coffin in the woods, causing Hazel to be swept up in new love, shift her loyalties, feel the fresh sting of betrayal, and to make a secret sacrifice to the faerie king.

by Suzanne Collins

Ambition will fuel him. Competition will drive him. But power has its price. It is the morning of the reaping that will kick off the tenth annual Hunger Games. In the Capitol, eighteen-year-old Coriolanus Snow is preparing for his one shot at glory as a mentor in the Games. The once-mighty house of Snow has fallen on hard times, its fate hanging on the slender chance that Coriolanus will be able to outcharm, outwit, and outmaneuver his fellow students to mentor the winning tribute. The odds are against him. He's been given the humiliating assignment of mentoring the female tribute from District 12, the lowest of the low. Their fates are now completely intertwined - every choice Coriolanus makes could lead to favour or failure, triumph or ruin. Inside the arena, it will be a fight to the death. Outside the arena, Coriolanus starts to feel for his doomed tribute . . . and must weigh his need to follow the rules against his desire to survive no matter what it takes.

by Julie Kagawa

Meghan Chase has a secret destiny--one she could never have imagined. Something has always felt slightly off in Meghan's life, ever since her father disappeared before her eyes when she was six. She has never quite fit in at school or at home. When a dark stranger begins watching her from afar, and her prankster best friend becomes strangely protective of her, Meghan senses that everything she's known is about to change. But she could never have guessed the truth--that she is the daughter of a mythical faery king and is a pawn in a deadly war. Now Meghan will learn just how far she'll go to save someone she cares about, to stop a mysterious evil no faery creature dare face and to find love with a young prince who might rather see her dead than let her touch his icy heart.

by Eileen Merriman

Violet Black and Ethan Wright are both in a coma after contracting the lethal M-fever. They have never met. But there is a far more serious reason for Ethan to find Violet: the sinister Foundation is trying to hunt them down.

by Tracey Baptiste

Bianca Cooper, a normal sixteen-year-old student, escapes into the world of Minecraft after getting into a terrible car accident. Soon, however, she realizes that she is trapped inside the game, none of the rules are working like they should, and the in-game characters who have been attacking her resemble figures from her real life. She must unravel the mysteries of this new world- why did she end up here? Who are the menacing figures who've been following her? Is any of this real, and if it is, how does she get home?

by Leigh Bardugo

The Darkling rules Ravka from his shadow throne. Alina forges new alliances as she and Mal search for Morozova's last amplifier. But as she begins to unravel the Darkling's secrets, she reveals a past that alters her understanding of the bond they share and the power she wields.

by John Boyne

Berlin 1942. When Bruno returns home from school one day, he discovers that his belongings are being packed in crates. His father has received a promotion and the family must move from their home to a new house far far away, where there is no one to play with and nothing to do. A tall fence running alongside stretches as far as the eye can see and cuts him off from the strange people he can see in the distance. But Bruno longs to be an explorer and decides that there must be more to this desolate new place than meets the eye. While exploring his new environment, he meets another boy whose life and circumstances are very different to his own, and their meeting results in a friendship that has devastating consequences.

by James Dashner

When the doors of the lift crank open, the only thing Thomas remembers is his first name. But he's not alone. He's surrounded by boys who welcome him to the Glade, a walled encampment at the centre of a bizarre and terrible stone maze...

by Erin Hunter

In Warriors: Shadows of the Clans, experience three stand-alone adventures, previously available as individual digital-only titles. Mapleshade's Vengeance. Before she ever troubled the dreams of Crookedstar or Tigerclaw, Mapleshade was a warrior of ThunderClan. But then the Clan cast her out - and she vowed to seek her revenge. Goosefeather's Curse. Goosefeather is destined to be a medicine cat unlike any ThunderClan has ever known--but will he ever come to terms with a gift that feels like a curse? Ravenpaw's Farewell. Long after leaving his life as a warrior behind, Ravenpaw is called on one final quest in search of a lost Clan.

by Sarah J. Maas

Feyre will bring vengeance. She has left the Night Court -- and her High Lord -- and is playing a deadly game of deceit. Her former lover Tamlin is making deals with Feyre's enemies and she is determined to uncover his plans. But can she make him believe she has come back to him when every fibre of her being yearns for Rhysand? As mighty armies clash, Feyre will discover she is not the only one hiding something. And as the web of secrets, lies and betrayals is revealed, fighting for the truth may cost Feyre and her court the ultimate price.

by Shelby Mahurin

Two years ago, Louise le Blanc fled her coven and took shelter in the city of Cesarine, forsaking all magic and living off whatever she could steal. There, witches like Lou are hunted. They are feared. And they are burned. As a huntsman of the Church, Reid Diggory has lived his life by one principle: Thou shalt not suffer a witch to live. But when Lou pulls a wicked stunt, the two are forced into an impossible situation—marriage. Lou, unable to ignore her growing feelings, yet powerless to change what she is, must make a choice. And love makes fools of us all.

by Robert Muchamore

When an MI5 operation goes disastrously wrong, CHERUB agent James Adams needs all of his skills to get out of Russia alive. Meanwhile, his sister Lauren is on her first solo mission, trying to uncover a brutal human-trafficking operation. And when James does get home, he finds that his nightmare is just beginning. Suggested level: intermediate, secondary.

by Patrick Ness

Todd Hewitt is the last boy in Prentisstown, a town where everyone can hear your thoughts. One month before he is due to become a man Todd discovers that the town has been keeping secrets from him, and he is going to have to run. Todd is soon going to learn about the dangerous choices of growing up.

by Marie Lu

The United States is gone, along with its flooded coasts. North America's two warring nations, the western Republic and the eastern Colonies, have reached a breaking point. In the midst of this broken continent and dark new world are two teenagers who will go down in history...Born into the slums of the Republic's Lake sector, fifteen-year old Day is the country's most wanted criminal. A mysterious boy with no recorded image or fingerprints. A boy who should no longer exist. Born to an elite family in the wealthy Ruby sector, fifteen-year old June is the Republic's most promising prodigy. Obedient, passionate, and committed to her country - until the day her brother Metias is murdered during a break-in at the plague hospital. Only one person could be responsible. Day.