Reading Map: Zora & Me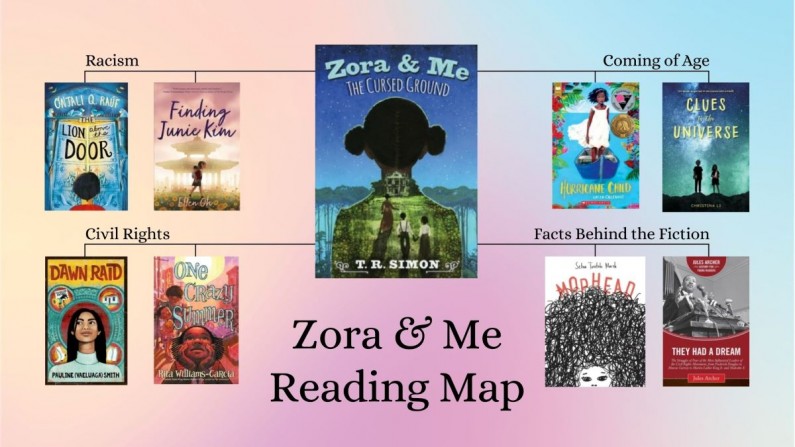 For young readers who enjoyed Zora & Me: The Cursed Ground, we have a selection of other junior books which share similar themes, of racism, coming of age, civil rights, and the facts behind the fiction.
Read on for more on these books - click any title to check availability or place a hold.
by T. R. Simon

A fictionalized account of Zora Neale Hurston's childhood with her best friend Carrie, in Eatonville, Florida, as they learn about life, death, and the differences between truth, lies, and pretending. Includes an annotated bibliography of the works of Zora Neale Hurston, a short biography of the author, and information about Eatonville, Florida.
Racism
by Onjali Q. Raúf

On a class trip to a nearby cathedral, Leo's attention is drawn to a large marble slab high above the doors of the hall. Right there, bang in the middle of a list of war heroes, Leo finds himself staring at something incredible: his own name. Desperate to know who this other Leo was, the two friends embark on a search. And together, they begin to uncover missing stories from the past, ones which they are determined to put back into their rightful place in the pages of history. Touching on themes of historical racism, The Lion Above the Door shines a light on the stories our history books have yet to contain and the power of friendships that can last through generations.

by Ellen Oh

Junie Kim just wants to fit in. So she keeps her head down and tries not to draw attention to herself. But when racist graffiti appears at her middle school, Junie must decide between staying silent or speaking out. Then Junie's history teacher assigns a project and Junie decides to interview her grandparents, learning about their unbelievable experiences as kids during the Korean War. Junie comes to admire her grandma's fierce determination to overcome impossible odds, and her grandpa's unwavering compassion during wartime. And as racism becomes more pervasive at school, Junie taps into the strength of her ancestors and finds the courage to do what is right.
Coming of Age
by Kacen Callender

Being born during a hurricane is unlucky, and 12-year-old Caroline has had her share of bad luck lately. She's hated and bullied by everyone in her small school, a spirit only she can see won't stop following her, and -- worst of all -- Caroline's mother left home one day and never came back. But when a new student named Kalinda arrives, Caroline's luck begins to turn around. Kalinda becomes Caroline's first and only friend -- and the person for whom Caroline has begun to develop a crush. Now, Caroline must find the strength to confront her feelings for Kalinda, brave the spirit stalking her through the islands, and face the reason her mother abandoned her. Together, Caroline and Kalinda must set out in a hurricane to find Caroline's missing mother -- before Caroline loses her forever.

by Christina Li

The only thing Rosalind Ling Geraghty loves more than watching NASA launches with her dad is building rockets with him. When he dies unexpectedly, all Ro has left of him is an unfinished model rocket they had been working on together. Benjamin Burns doesn't like science, but he can't get enough of Spacebound, a popular comic book series. When he finds a sketch that suggests that his dad created the comics, he's thrilled. Too bad his dad walked out years ago, and Benji has no way to contact him. Though Ro and Benji were only supposed to be science class partners, the pair become unlikely friends. As the two face bullying, grief, and their own differences, Benji and Ro must try to piece together clues to some of the biggest questions in the universe.
Civil Rights
by Pauline (Vaeluaga) Smith

Like many 13-year-old girls, Sofia's main worries are how to get some groovy go-go boots, and how not to die of embarrassment giving a speech at school! But when her older brother Lenny starts talking about marches and protests and overstayers, and how Pacific Islanders are being bullied by the police for their passports and papers, a shadow is cast over Sofia's sunny teenage days. Through her heartfelt diary entries, we witness the terror of being dawn-raided and gain an insight into the courageous and tireless work of the Polynesian Panthers in the 1970s as they encourage immigrant families across New Zealand to stand up for their rights.

by Rita Williams-Garcia

In the summer of 1968, after traveling from Brooklyn to Oakland, California, to spend a month with the mother they barely know, eleven-year-old Delphine and her two younger sisters arrive to a cold welcome as they discover that their mother, a dedicated poet and printer, is resentful of the intrusion of their visit and wants them to attend a nearby Black Panther summer camp.
The Facts Behind the Fiction
by Selina Tusitala Marsh

At school, Selina is ridiculed for her big, frizzy hair. Kids call her 'mophead'. She ties her hair up this way and that way and tries to fit in. Until one day - Sam Hunt plays a role - Selina gives up the game. She decides to let her hair out, to embrace her difference, to be WILD! Selina takes us through special moments in her extraordinary life. She becomes one of the first Pasifika women to hold a PhD. She reads for the Queen of England and Samoan royalty. She meets Barack Obama. And then she is named the New Zealand Poet Laureate. She picks up her special tokotoko, and notices something. It has wild hair coming out the end. It looks like a mop. A kid on the Waiheke ferry teases her about it. So she tells him a story.

by Jules Archer

The majority of the civil rights movement in the United States occurred in three stages. The first stage began with slaves in America, like Frederick Douglass, fighting for their freedom. After the Civil War, Marcus Garvey and other freed slaves fought to overcome the still prevailing prejudice and persecution. And in the 1960s, a strong civil rights movement branched in two different directions, headed by the Reverend Martin Luther King Jr. and Malcolm X. Together, these four men shaped the American civil rights movement. Racism is still a very relevant problem in our country today, and to better understand where we are now and how to make progress in the future, we must first understand where we've come from.