2022 Ockham Awards Shortlist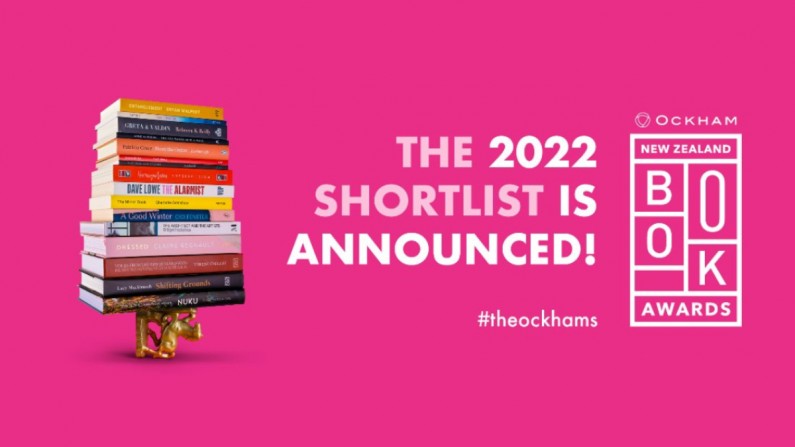 The shortlist for this year's Ockham New Zealand Book Awards were announced this morning. Each category (Fiction, Poetry, Illustrated Non-Fiction, and General Non-Fiction) has four finalists - three finalists are also eligible for the Crystal Arts Trust Best First Book Award.
See the shortlist below, and click on any title to check availability and place a hold.
Jann Medlicott Acorn Prize for Fiction
by Gigi Fenster

When Olga's friend Lara becomes a grandmother, Olga helps out whenever she can. After all, it's a big imposition on Lara, looking after her bereaved daughter and the baby. And the new mother is not exactly considerate. But smoldering beneath Olga's loving generosity is a deep, jealous need to be the centre of Lara's attention and affection.

by Bryan Walpert

A memory-impaired time traveller attempts to correct a tragic mistake he made in 1977 when, panicked, he abandoned his brother on a frozen lake in Baltimore. Decades later, in 2011, a novelist researching at the Centre for Time in Sydney becomes romantically involved with a philosopher from New Zealand. Another eight years on, and a writer at a lake retreat in New Zealand in 2019 obsesses over the disintegration of his marriage following another tragedy. Are these separate stories, or are they one? Is the time traveller actually travelling? Can the past be changed? As the answers to these questions slowly emerge, the three tales become entangled, along with the usual abstractions: love, desperation and physics.

by Rebecca K. Reilly (debut)

Valdin is still in love with his ex-boyfriend Xabi, who used to drive around Auckland in a ute but now drives around Buenos Aires in one. Greta is in love with her fellow English tutor Holly, who doesn't know how to pronounce Greta's surname, Vladislavljevic, properly. From their Auckland apartment, brother and sister must navigate the intricate paths of modern romance as well as weather the small storms of their eccentric Māori-Russian-Catalonian family.

by Whiti Hereaka

In the void of time, Kurangaituku, the bird-woman, tells the story of her extraordinary Life - the birds who first sang her into being, the arrival of the Song Makers and the change they brought to her world, her life with the young man Hatupatu, and her death. But death does not end a creature of imagination like Kurangaituku. In the underworlds of Rarohenga, she continues to live in the many stories she collects as she pursues what eluded her in life. This is a story of love - but is this love something that creates or destroys? Kurangaituku is a contemporary retelling of the story of Hatupatu from the perspective of the traditional 'monster'- bird-woman Kurangaituku. For centuries, her voice has been absent from the story, and now, Kurangaituku means to claim it.
Mary and Peter Biggs Award for Poetry
by Tayi Tibble

Rangikura is the fiery second collection by Tayi Tibble. These poems live in the space between the end of the world and a new day. They ask us to think about our relationship to desire and exploitation. They are both nostalgic for, and exhausted by, the pursuit of an endless summer.

by Serie Barford

In Sleeping with Stones, beloved Pasifika poet Serie Barford navigates seasons of grief. As she moves through autumn, winter, spring and summer, she traverses the pain, anger, longing and heartache of losing a loved one in poetry that is both steely with resolve and exquisitely tender. This is Serie's fourth poetry collection.

by Anne Kennedy

In The Sea Walks into a Wall, the natural world around us hits back. The sea crashes its glass onto the bar. You watch from afar. You'd take it all back if you could. Everything. You'd go down there and you'd. And talks back too. If I'm fucked, you're coming with me. Sincerely, the stream. From rainy Ihumatao to London's Kew Gardens, in the face of seas and streams, ducks and dogs, black drops and bureaucracies, humans bumble through. Without distractions you'd rush through your life like chi through an empty room. You bump into a baby and that takes up eighteen years. Love fills the room like a maze. Intelligent, playful, witty and innovative, these poems bite where it hurts.

by Joanna Preston

This second collection by award-winning poet Joanna Preston charts a course for the journey from child to woman. Her bold and original voice swoops the reader from the ocean depths to the roof of the world, from nascent saints, Viking raids and fallen angels to talking cameras and an astronaut in space. Always, the human heartbeat is at stake, as Preston explores love, loss, longing and lust - how we stumble, how we soar. tumble traverses traditional forms, the lyric and free verse; it is earthy and embodied, while at the same time woven through with myth and magical realism.
Booksellers Aotearoa New Zealand Award for Illustrated Non-Fiction
by Claire Regnault

"The museums of Aotearoa New Zealand hold a glorious treasure trove of clothing worn by fashionable women from 1840 to the early 1900s. From ball gowns and riding habits to tea gowns and dresses worn for presentations to Queen Victoria, these gowns help tell the story of the lives of early businesswomen, society women and civic figures, making Dressed a unique social history.

by Qiane Matata-Sipu (debut)

NUKU is a powerful and important snapshot of Indigenous wāhine today. Through wide-ranging voices this ambitious social documentary showcases diverse representations of leadership, systems change and success. Readers obtain authentic insight into life as an Indigenous woman in a way like never before. The 100 stories recorded here are of incredible wāhine who seek to influence the world around them. Each kōrero is accompanied by striking photographic portraits, inspiring generations of women to see themselves within these pages. NUKU (and the accompanying multi-media series) is entirely led, created by and about, Indigenous women. To honour collective story sovereignty and ensure a foundation of mana motuhake, this book has also been self-published.

by Lucy Mackintosh

Deep histories, both natural and human, have been woven together over hundreds of years in places across Tāmaki Makaurau Auckland, forming potent sites of national significance. This ... book unearths these histories in three iconic landscapes: Pukekawa/Auckland Domain, Maungakiekie/One Tree Hill and the Ōtuataua Stonefields at Ihumātao. Approaching landscapes as an archive, Lucy Mackintosh delves deeply into specific places, allowing us to understand histories that have not been written into books or inscribed upon memorials, but which still resonate through Auckland and beyond.

by Bridget Hackshaw

A beautiful and important book about the remarkable collaboration between the modernist architect James Hackshaw (a member, for a time, of the famous Group Architects), the painter Colin McCahon and the then young sculptor Paul Dibble on 14 New Zealand buildings - from churches to school halls. Drawing on interviews with James Hackshaw before his death and on the McCahon archive, this book brings into the light a body of work and a collaboration that has been little known or examined, even by old McCahon hands. Richly illustrated with Hackshaw's plans, McCahon's drawings, letters and journal entries, and contemporary images of the surviving buildings and artworks, and with expert essays by Peter Simpson, Julia Gatley and Peter Shaw.
General Non-Fiction Award
by Patricia Grace

With photographs and quotes from her many, hugely loved books, Patricia Grace begins with her grandparents and parents and takes us through her childhood, her education, marriage and up to the present day in this touching and self-deprecating story of her life, the life of a writer, of a Maori woman and of a teacher. It expresses the love for family and for ancestral land; shows the prejudices she had to face and that made her stronger; and tracks her career as a writer.

by Dave Lowe (debut)

His research was urgent fifty years ago. Now, it's critical. In the early 1970s, budding Kiwi scientist Dave Lowe was posted at an atmospheric monitoring station on the wind-blasted southern coast of New Zealand's North Island. On a shoestring salary he measured carbon in the atmosphere, collecting vital data towards what became one of the most important discoveries in modern science. What followed was a lifetime's career marked by hope and despair. From the sandy beaches of California to the stark winters of West Germany, the mesas of the Rocky Mountains and an Atlantic voyage across the equator, Dave has faced down climate deniers, foot-dragging bureaucracy and widespread complacency to open people's eyes to the effects of increasing fossil fuel emissions on our atmosphere.

by Charlotte Grimshaw

It's material, make a story out of it,' was the mantra Charlotte Grimshaw grew up with in her famous literary family. But when her life suddenly turned upside-down, she needed to re-examine the reality of that material. The more she delved into her memories, the more the real characters in her life seemed to object. So what was the truth of 'a whole life lived in fiction'? This is a vivid account of a New Zealand upbringing, where rebellion was encouraged, where trouble and tragedy lay ahead. It looks beyond the public face to the 'messy reality of family life - and much more.

by Vincent O'Malley

Welcome to our story, this history. Wherever in the world the bones of your ancestors lie, wherever their ashes may have been dispersed, here you will find traces of them, and of yourself.... It is, of course, a story of colonisation and resistance - and a history that has never stopped repeating. Arama Rata The New Zealand Wars of the mid-nineteenth century profoundly shaped the course and direction of our nation's history. The often fragmentary, sometimes hastily written accounts that make up Voices from the New Zealand Wars vividly evoke the extreme emotions – fear, horror, pity and courage - experienced during the most turbulent time in our country's history. Each account is expertly introduced and contextualised, so that the historical record speaks to us vividly through many voices.