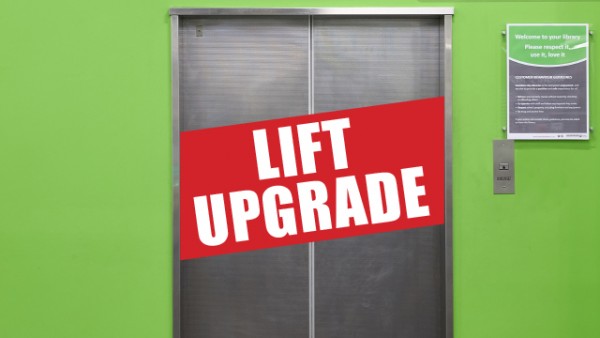 The Central Library will need to close temporarily for two weeks to allow for a upgrade of the passenger lift. The dates of this closure are yet to be confirmed, as essential materials for this upgrade are currently in Auckland. The upgrade and closure will go ahead once Auckland joins us at Alert Level 1 or 2.
Frequently Asked Questions
The Central Library will be closed for demolition work on lifts which will have excessive noise levels. We are closing the library as prolonged exposure to hazardous noise levels can have a negative impact on the health and wellbeing of our staff and customers.
The passenger lift will not be available when Central Library opens after the closure, as the closing period covers the demolition phase of the renewal work only. However, customers will be able to use the staff lift until the upgrade is completed.
The staircase leading up from the stadium area remains our main stairs, with other stairs around the edges of the building available for emergency evacuation.
There is a staff lift which will become available for customers to use. An operator will be available in the lift. Please ask a staff member to help you if you need any assistance.
The lift is outdated and needs to be replaced. This renewal will enhance the lift's operation, reliability, and accessibility.
While this was considered, COVID-19 restrictions meant this work could not be safely completed until Alert Level 2. The contractors conducting this work are based in Auckland, which added extra complications.
Hamilton's five other libraries will remain open.
Hamilton City Libraries will also continue running the Click and Collect service during the two weeks. Through this service, the team will pack up to 10 books for customers to collect from Hamilton's five other libraries.
During the closure, depending on Alert Levels and requirements around gatherings, the Libraries team will also run an outreach programme out of Western Community Centre, Te Whare O Te Ata and Waimarie.
The after-hours return slot will remain open during the lift upgrade and customers can also return and borrow books at other library branches.
The holds pick-up service will not be available at Central Library during the closure. This will resume once the library reopens. We suggest that you select one of our other branches to pick up your holds during this time.
During the closure, there will be no library staff on-site due to the excessive noise levels of the demolition work. This means that items showing in the catalogue as "Available" at Central Library cannot be transported to your preferred branch and won't be available until the library re-opens.