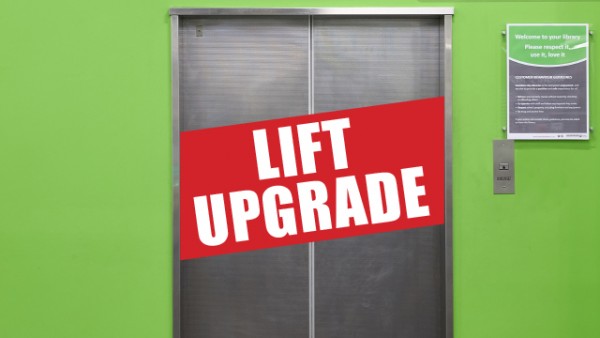 The Central Library passenger lift was upgraded in 2021. As of 20 December, the new passenger lift and upper floors are now open for visitors to use as normal.
An upgrade to the Central Library goods lift is planned for early 2022, however we do not anticipate any disruption for library users aside from occasional noise. More information about this work will be posted here closer to the time.
Frequently Asked Questions
The Central Library was closed for demolition work on lifts which had excessive noise levels. We are closed the library as prolonged exposure to hazardous noise levels can have a negative impact on the health and wellbeing of our staff and customers.
The passenger lift will not be available when Central Library re-opens to the public after the closure, as the closing period covered the demolition phase of the renewal work only. With work on the lift underway, it is unsafe to open all floors of this library.
However, a pop-up library will operate out of Level 1 of Central Library from Monday 22 November. While the pop-up library will mean you can only browse Level 1 of the branch, all collection items are accessible – just have a chat with one of our friendly team members.
The lift is outdated and needs to be replaced. This renewal will enhance the lift's operation, reliability, and accessibility.