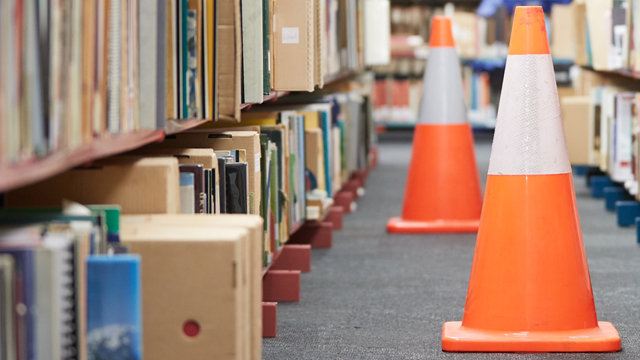 All Hamilton City Libraries branches are public assets, managed by Hamilton City Council on behalf of the people of our city.
The Council has a programme of work, often called "renewals", to ensure our buildings and other assets are properly maintained and cared for. These maintenance projects can include a range of different work, from new paint outside and inside the libraries, to replacement carpet, furniture, and even roof work and plumbing!
We plan this work in advance and aim to minimise the disruption to our service. We'll always strive to keep our libraries open when this work is underway, but depending on what's involved in the project, there may be situations where programmes and activities are canceled and some parts of the collection are unavailable.
On this page, you'll find up-to-date information on our maintenance projects, and we'll refresh the content on this page whenever details of a maintenance project are confirmed.
You can also follow all our maintenance projects on our Facebook page.


Current Projects
Renovations that will open up Central Library to Garden Place have started
Hamilton's Central Library is set for further transformation.
Following closely after the opening of the new Smart Space, the Central Library's frontage will be further renovated to incorporate a community space and a maker space – the latter a digital-focused learning initiative.
The work to renovate the front of the Central Library has begun and is expected to take about eight weeks.
"The first part of the project will see the deconstruction of the offices at the front of our building, which our management team has recently vacated," Rebecca Whitehead, Hamilton City Libraries Director says.
"Parts of the ground floor of the Central Library will be off-limits to our customers, but our opening hours won't change and our front doors will still be the main access point for everyone who comes in to take advantage of the services we offer."
The noisiest parts of the project will be undertaken when the Central Library is closed.
Mrs Whitehead says the renovation of the front of the Central Library will open up the building more to Garden Place and make it a more inviting space for the public.
"We want our libraries to be hubs for our community, and with this project we're taking a big step towards achieving that at our flagship library, right in the heart of the city."
A maker space enhances existing libraries services and embraces the opportunity presented by modern technology. Libraries staff have been offering a mobile maker space programme across all the services branches, and this will continue so the service remains available to all customers.
"The Central Library maker space gives us a great opportunity to expand this programme and its focus on science, mathematics and technology through digital tools."
Once completed, staff running a maker space will collaborate with those in the Smart Space to deliver combined programmes.
The redevelopment of the front of the Central Library has been funded through the Council's 2018-2028 10-Year Plan, and reflects several of the key themes in the Hamilton City Libraries Strategic Plan.
Roof works at Central Library
Central Library customers will see more work being done on our building over the next few weeks.
As part of ongoing management and maintenance of the Central Library, we're arranging for replacement of the roof at the front of our building, facing Garden Place. This project required specific design work and so was not included in the re-roofing of the main part of our building earlier this year.
The work will begin on Monday 16 September, and is expected to run through until late October.
For the first week of the project, access to Level 3 will be restricted, so our Heritage Collections will be available from Level 2. This is the only change to the services we offer our customers while this project is underway.
As you might expect, reroofing comes with related construction noise and activity – and we do apologise in advance for this.
Maintenance of public buildings - including all branches of Hamilton City Libraries - is a key focus for Hamilton City Council, and we appreciate our customers' patience and understanding while we undertake these important projects.
Smart Space
Garden Place now has its very own Smart Space - an interactive space to engage on innovation, for the community to participate in defining problems and finding solutions and to test smart technologies. It's also a place for the Council and a wide range of public and industry partners to showcase smart initiatives and tell stories of innovation from within our city and the wider region.
The Smart Space is now available for everyone to visit, share ideas and collaborate!
Find out more about the Smart Space on their website.